The Millivolt Meter Project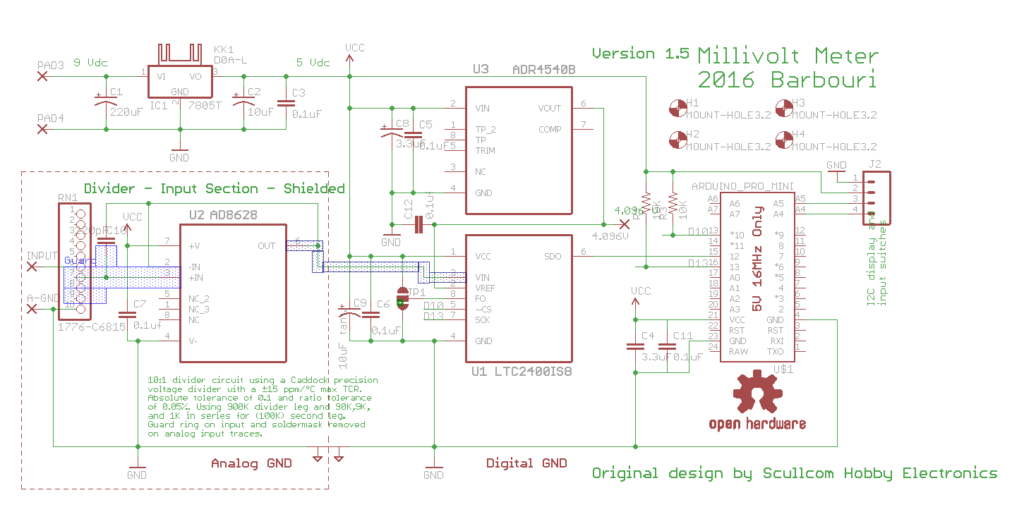 This is a DIY mil­li­volt meter that was orig­i­nal­ly designed by
Scullcom Hobby Electronics and pre­sent­ed on Youtube.
Definitely take the time to watch the videos (4 parts) as they are very well done and pre­sent­ed in a way that's easy to fol­low and learn from.
I was in need of a meter that I could ded­i­cate to low volt­age pre­ci­sion read­ings, and could be done for a rea­son­able cost. So this project seemed like a per­fect fit. As usu­al after view­ing the video I saw many areas that the meter could be mod­i­fied and improved for my spe­cif­ic use, and quick­ly began design­ing my own ver­sion of it using Eagle CAD V7.5.
Some of the changes I made were to reduce the noise and add shield­ing to the input sec­tion. I also made the deci­sion to uti­lize a pre­ci­sion volt­age divider net­work instead of the less expen­sive indi­vid­ual resis­tors.
Another major depar­ture from the orig­i­nal design was to use a MCP23017 (16 input/output) I2C port expander board that I had designed sev­er­al years ago, for con­nect­ing the LCD dis­play and push-but­tons. This reduced the num­ber of pins used by the Arduino Pro mini, and made it eas­i­er to mount the RGB LCD dis­play. As orig­i­nal­ly designed there were no pins left for future options.
I added guard rings on the top and bot­tom of the cir­cuit board around the low lev­el input cir­cuit­ry to the op-amp, and also removed the sol­der­mask around all low lev­el traces.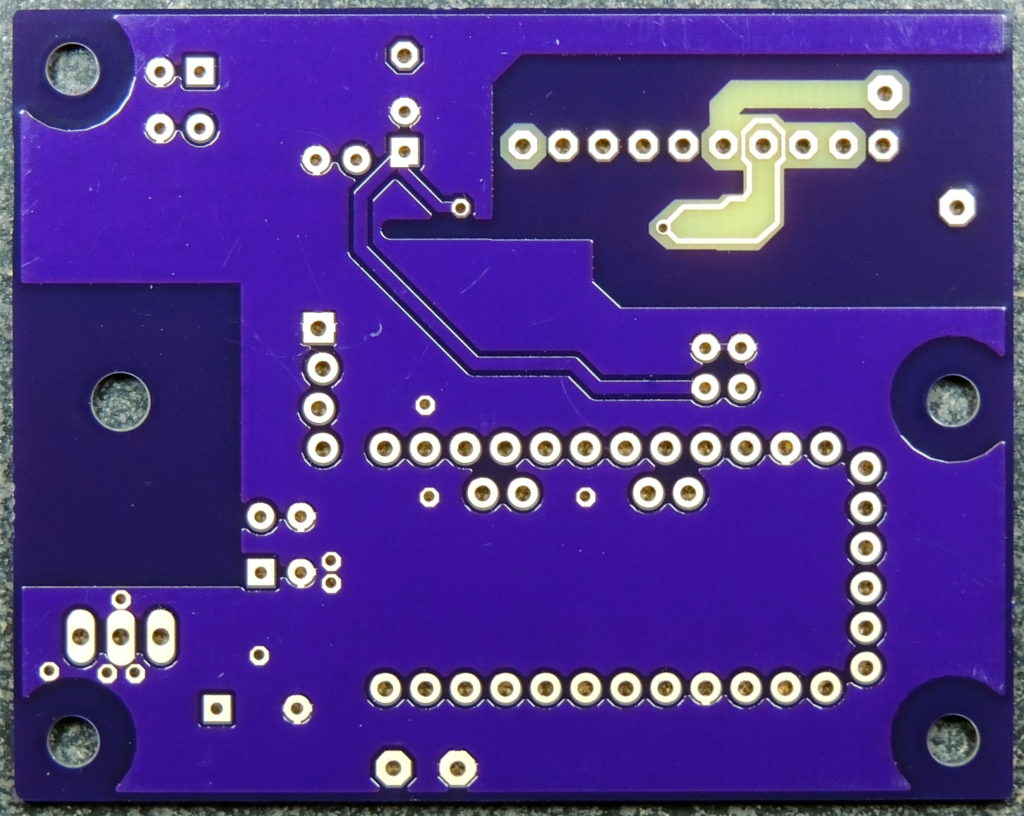 Bottom of board with input sec­tion on top right.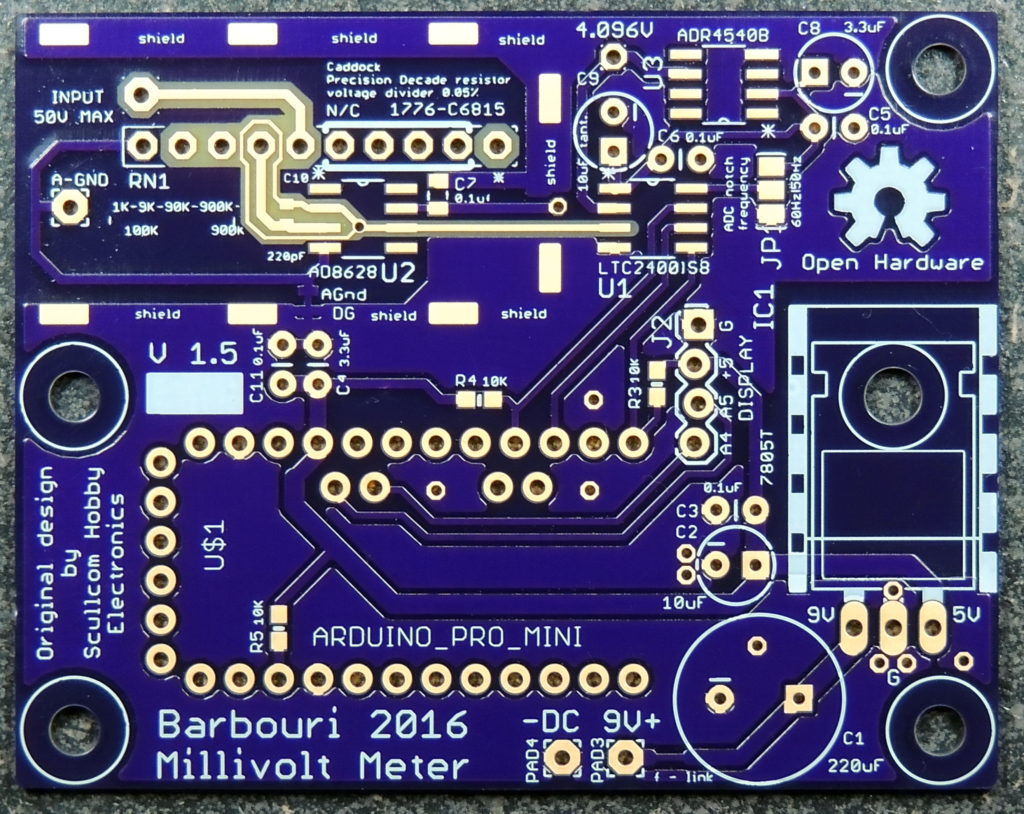 Top of board with input sec­tion on top left.
Boards were made in USA using the OSHpark board ser­vice.
https://oshpark.com/shared_projects/qgv0fpKN
The volt­age divider resis­tor is a Caddock 1776-C6815 of which the 1K, 9K, and 90K sec­tions are used in series to make up a 100K leg of the divider along with the 900K sec­tion for the oth­er leg of the divider. The 9M sec­tion was not used.
Next to the LTC2400 24bit ADC, a set of sol­der pad jumpers were added to allow selec­tion of either the 50Hz or 60Hz notch fil­ter.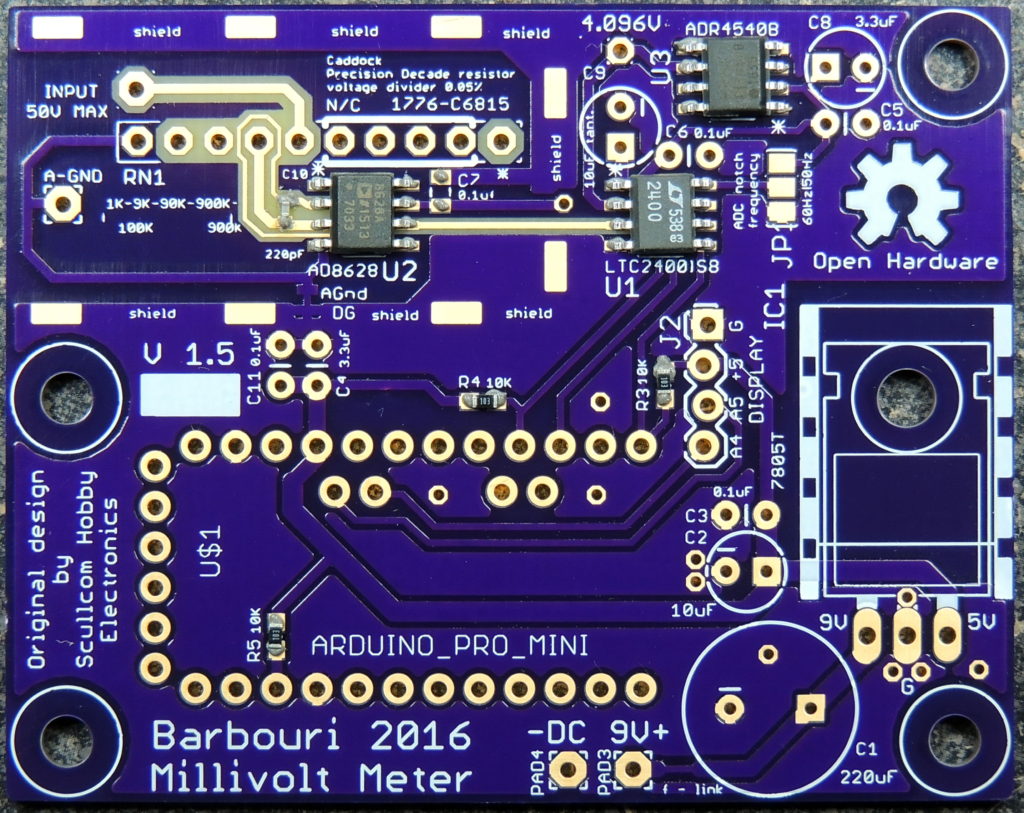 Top of board with sol­der paste and sur­face mount devices except C7 mounted.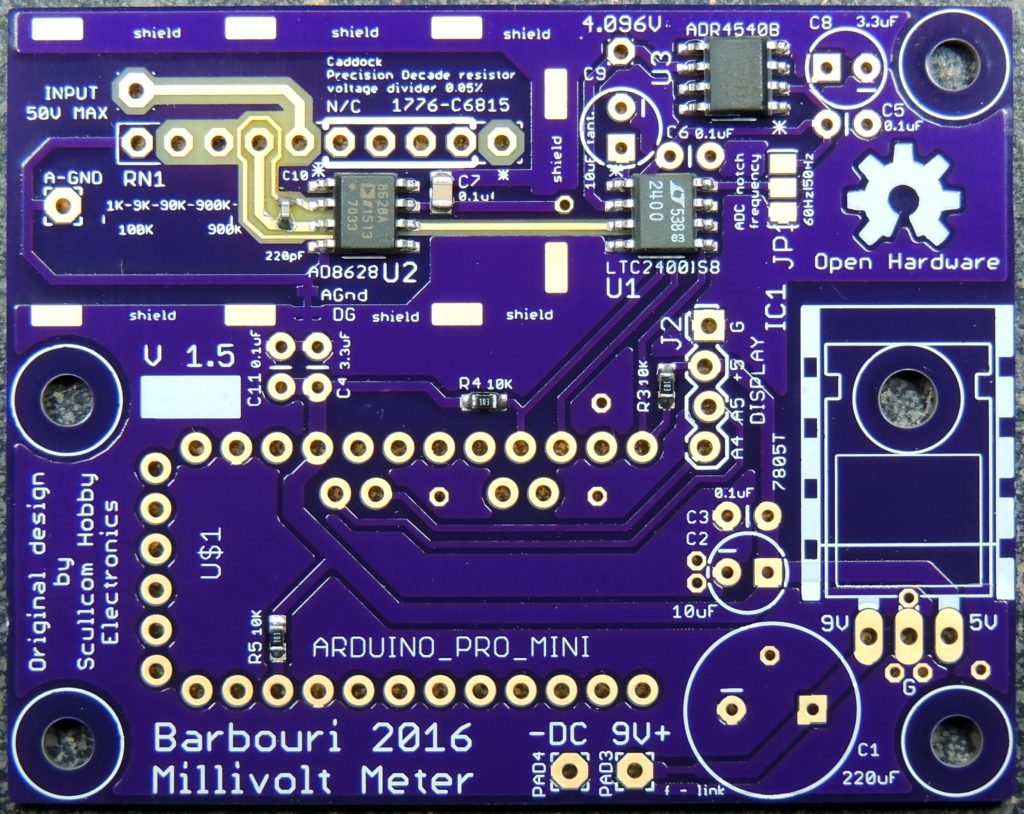 Board after refow sol­der­ing using a Presto Liddle Griddle and man­u­al tem­per­a­ture con­trol uti­liz­ing an infrared non-con­tact ther­mome­ter.
An impor­tant step is to clean the traces and com­po­nents in the input sec­tion so that no con­t­a­m­i­nants such as flux, oils, sur­fac­tants, or fin­ger­prints remain.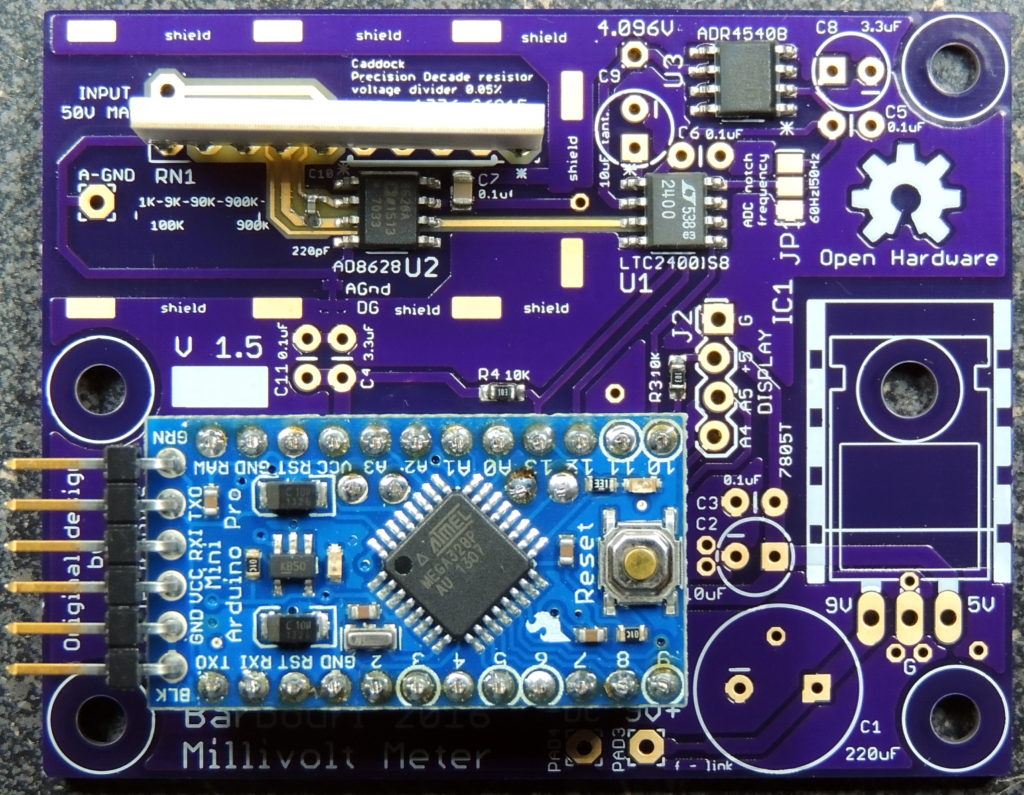 Caddock divider net­work and Sparkfun 16 MHz 5 volt Arduino Pro Mini added.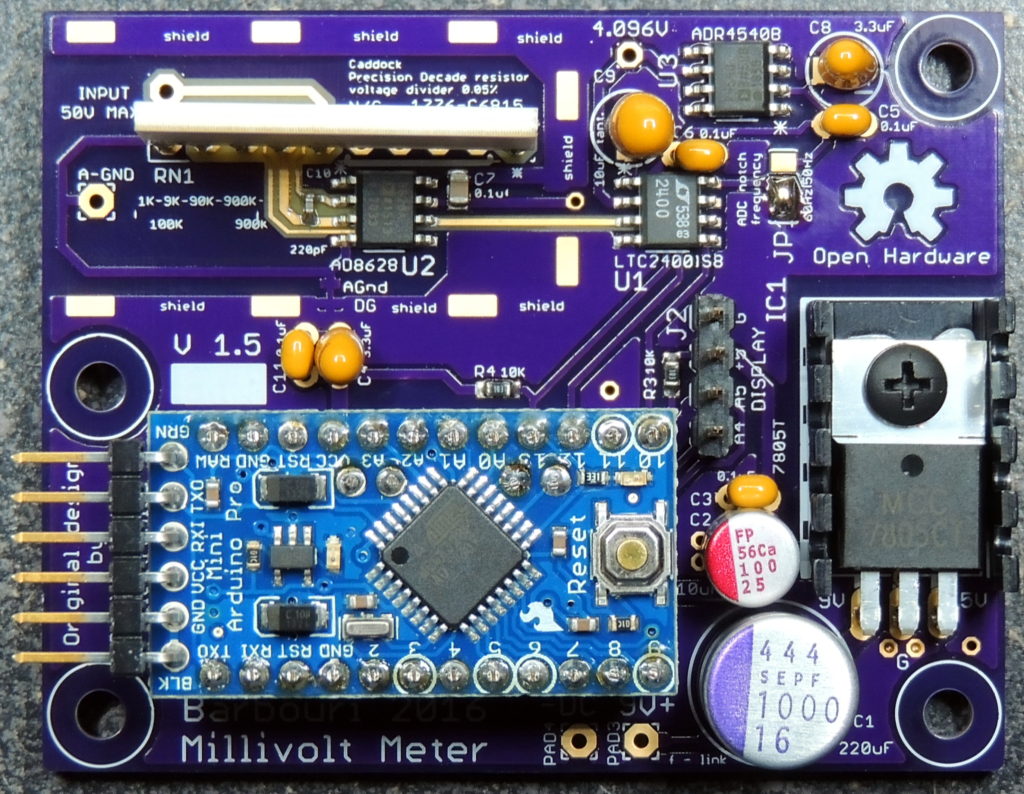 Other com­po­nents and I2C head­er installed, ready for testing.
After some pre­lim­i­nary test­ing I found some insta­bil­i­ty in the out­put of the ADR4540B 4.096 volt ref­er­ence IC. I had clear­ly left out the required out­put fil­ter capac­i­tor shown in the orig­i­nal schemat­ics.
I was eas­i­ly able to bodge the required capac­i­tor from the 4.096 test pin to the ground pin of the tan­ta­lum capac­i­tor direct­ly below it. The new V 1.51 schemat­ic and board files now include it.
One thing I noticed dur­ing test­ing was that the main board and dis­play used less than 50 mA and the orig­i­nal spec­i­fied 5 volt TO220 pack­age reg­u­la­tor, along with my added heatsink was much more than is need­ed. Moving to a small­er foot­print 150 mA reg­u­la­tor would free up con­sid­er­able space. Another addi­tion to the design would be to add a 250 mA PTC resetable fuse on the 9V input.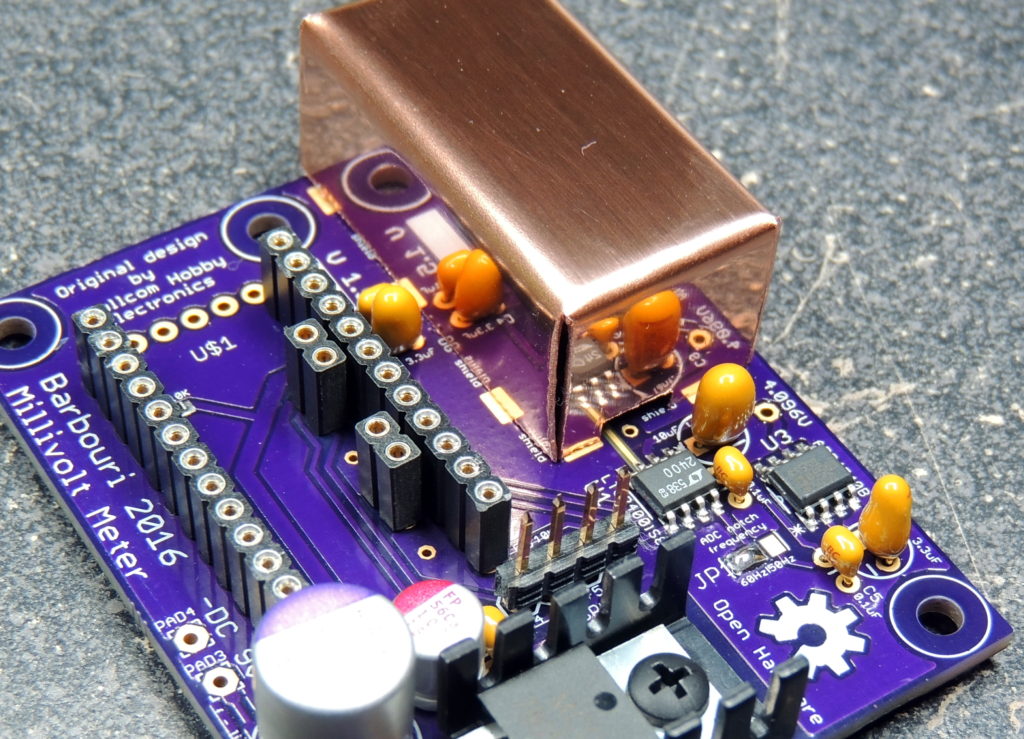 Checking fit and clear­ances of cop­per shield.
Mounting main board with shield and input wires attached. Battery guide and hold­er also mount­ed in enclo­sure.
Battery assem­bly is com­prised of 6 AA 1.5 volt bat­ter­ies for 9 V nom­i­nal input to regulator.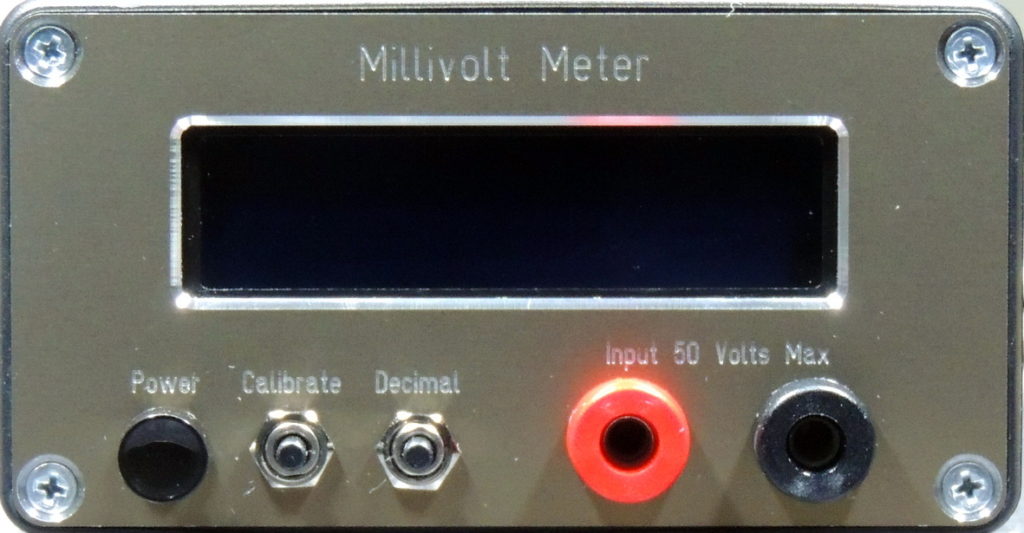 Front pan­el with dis­play, switch­es, and jacks mounted.
The front pan­el was designed using "Front Panel Designer" to fit a stan­dard Hammond 1455N1601 extrud­ed box with met­al end plates 6.299″ L x 4.055″ W x 2.087 H. — Link to design file at end of page.
Design file was sent to Front Panel Express in Seattle, WA. USA and was shipped five days lat­er. The pan­el is made from "Medium bronze" anodized alu­minum and is 2 mm in thick­ness. With a rec­tan­gu­lar beveled cutout for the LCD dis­play, D‑holes for the two banana jacks, coun­ter­sunk holes for box mount­ing, and stan­dard holes for the three switches.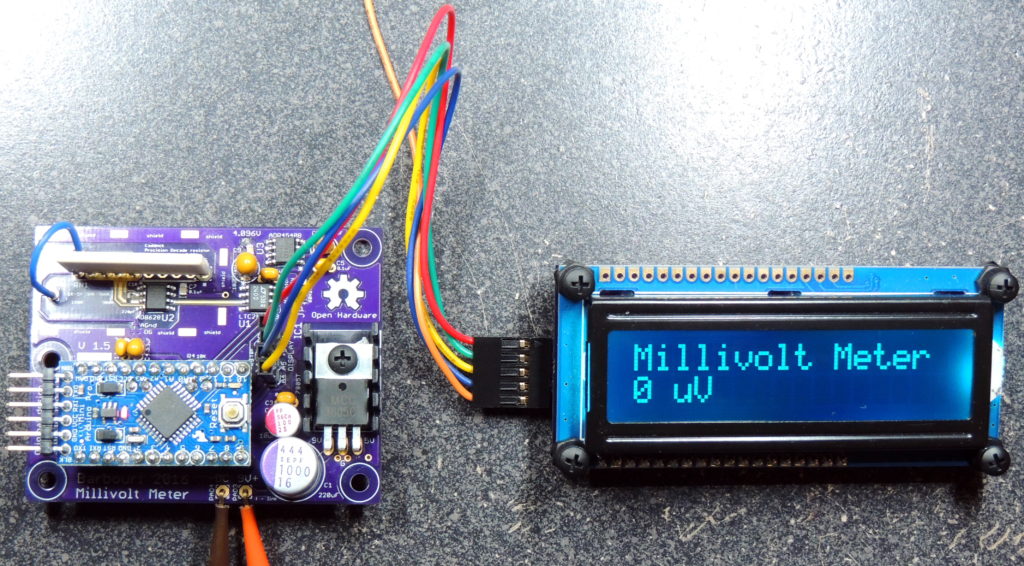 RGB LCD with I2C port expander board con­nect­ed to main board.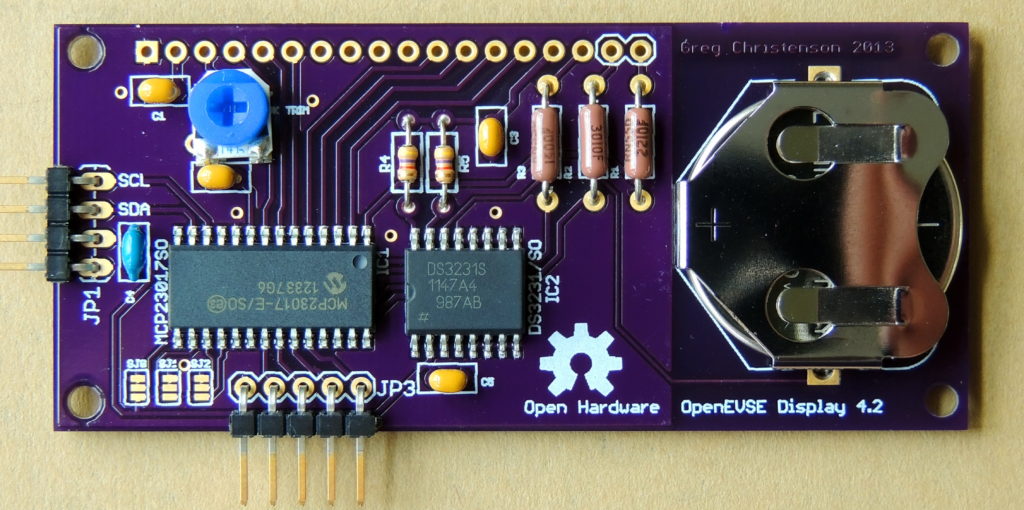 OpenEVSE dis­play board with a 16 IO I2C port expander and bat­tery back­up RTC (Real Time Clock) DS3231. The board also includes cur­rent lim­it­ing resis­tors for the three back­light RGB led's, and a con­trast poten­tiome­ter. For the I2C bus there are two pullup resis­tors posi­tions pro­vid­ed along with address select sol­der pad jumpers for the port expander. Four I/O ports are bro­ken out and can be indi­vid­u­al­ly con­fig­ured as inputs or out­puts, along with a ground pin. The board is sized to match the stan­dard foot­print for many 2 X 16 LCD dis­plays.
https://oshpark.com/shared_projects/J6RW88kf
The code pro­vid­ed by Scullcom Hobby Electronics was mod­i­fied to use the I2C inter­face for the LCD and input push-but­tons. RGB back­light­ing on the LCD changes col­or depend­ing on which mode the meter is cur­rent­ly in.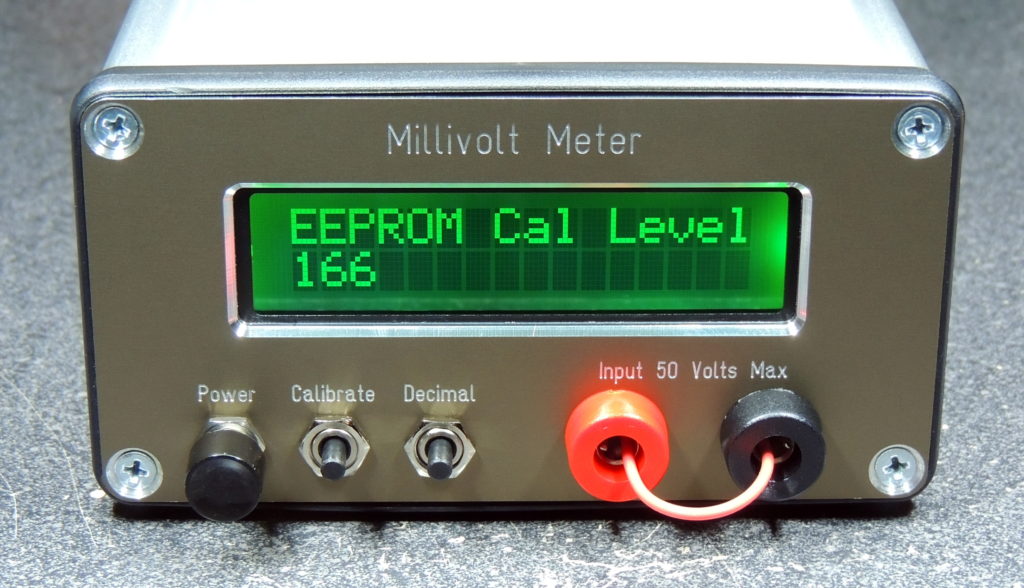 During start­up the EEPROM stored Cal Level is displayed.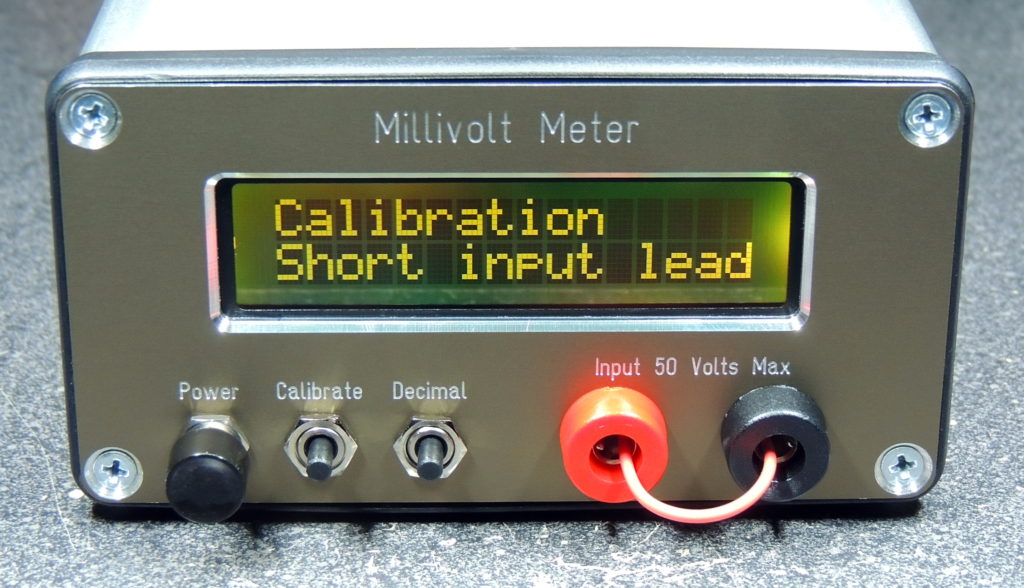 Pressing the Calibrate but­ton starts the cal­i­bra­tion mode prompt­ing the user to short the input leads.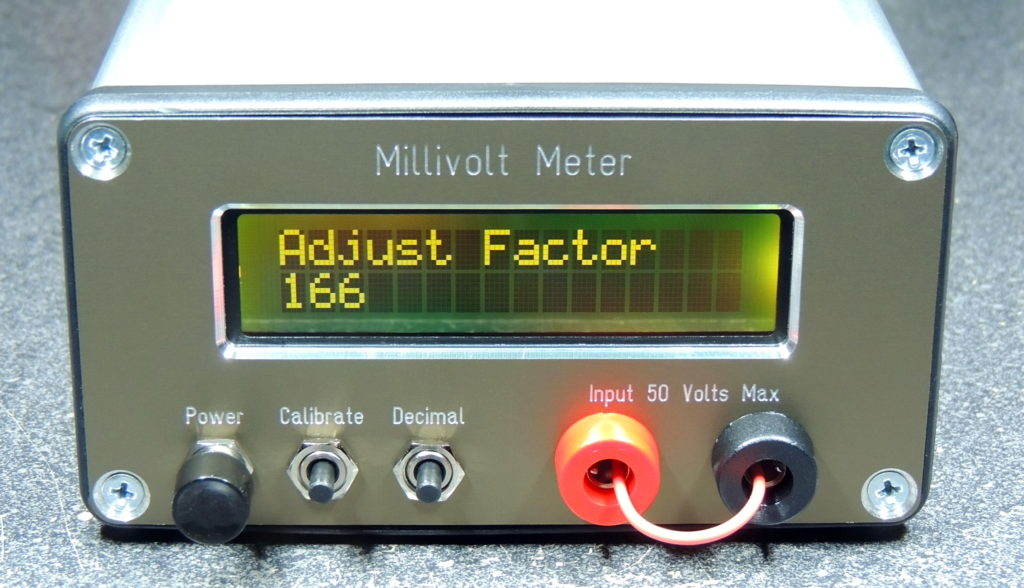 After the cal­i­bra­tion is com­plet­ed the Adjust Factor that is writ­ten to EPROM is dis­played on the LCD briefly before return­ing to mea­sure­ment mode.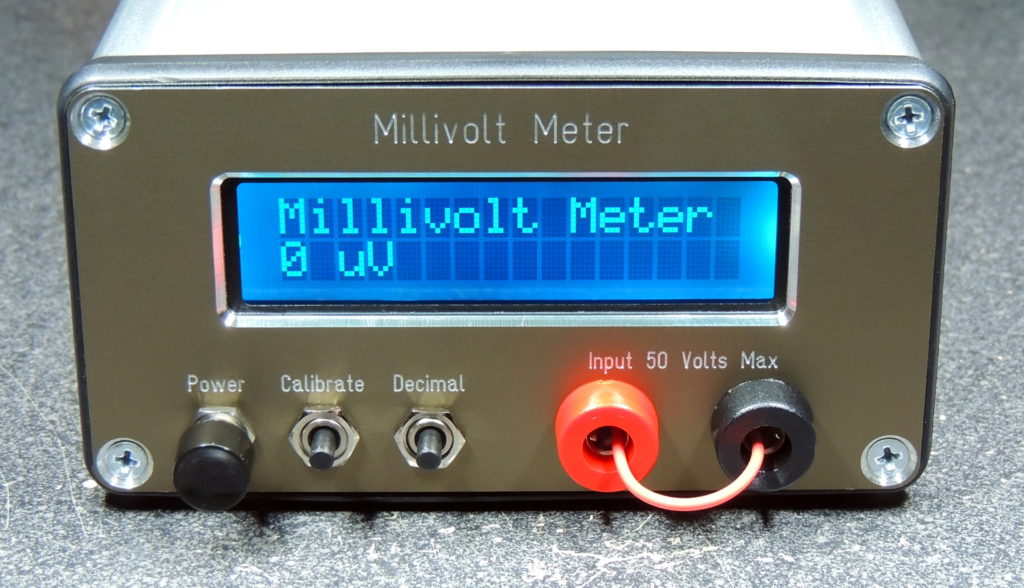 Measurement mode, cur­rent­ly dis­play­ing micro volts.
With all shield­ing in place and cal­i­bra­tions per­formed the meter fluc­tu­ates
±12 uV max­i­mum with the input leads short­ed and typ­i­cal­ly ± 5 uV.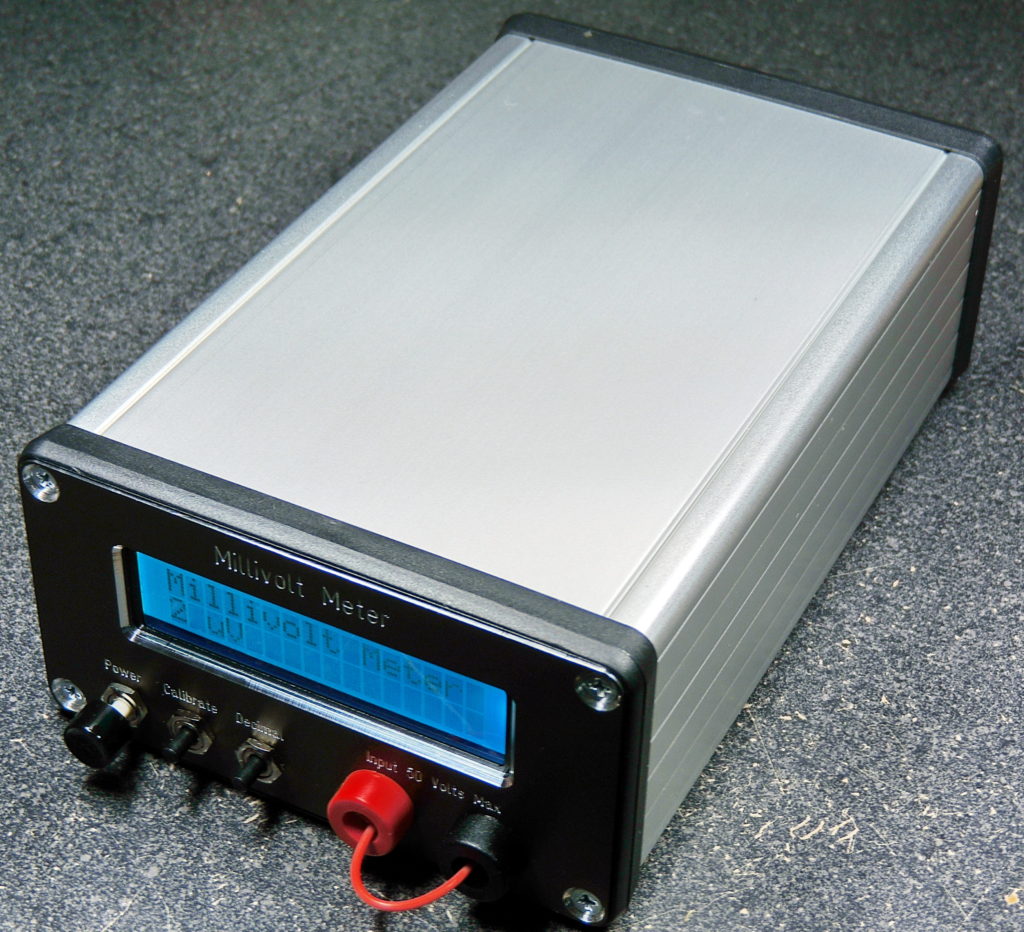 Link to EagleCAD Millivolt meter V1.51 schemat­ic and board files ZIP
Link to EagleCAD I2C port expander dis­play V4.2 schemat­ic and board files ZIP
Link to Front Panel Designer V1.1 front pan­el file ZIP
Modified code Version 3.20 December 2018 using Paul Versteeg's fil­ter, cal­i­bra­tion, and many oth­er code enhance­ments. For I2C RGB dis­play and I/O.
UPDATED Millivolt Meter Version 2.11 blog post
MilliVoltMeter320.zip firmware
/* SCULLCOM HOBBY ELECTRONICS
 * MILLIVOLT METER USING LTC2400 24bit ADC CHIP
 * Using the Version 1.51 PCB designed by Barbouri (Greg Christenson)
 * https://www.barbouri.com/2016/05/26/millivolt-meter/
 * 
 * Software version 3.20
 * 4.096 volt precision reference (ADR4540)
 * 
 * ****************************************************************
 * ****************************************************************
 * Items to modify in this code for your individual Millivolt Meter:
 * 
 * float v_ref - This is your actual voltage measured from the internal ADR4540 IC
 * float cal_2_1v_ref - This is the actual voltage of your 2.048V external reference for calibration if used
 * float cal_2_5v_ref - This is the actual voltage of your 2.500V external reference for calibration if used
 * float cal_5v_ref - This is the actual voltage of your 5.000V external reference for calibration if used
 * float cal_10v_ref - This is the actual voltage of your 10.000V external reference for calibration if used
 * float adc_ref_volts - This is the actual value of the external voltage reference for battery calibration
 * batt_voltage = 9.5 - If using battery voltage monitoring comment out this line and un-comment line above it
 * ****************************************************************
 * ****************************************************************
 *
 * Modified May 2016, December 2018 by Barbouri
 * for I2C display and pushbuttons 
 * Added includes Wire.h, Adafruit_MCP23017.h, Adafruit_RGBLCDShield.h 
 * https://github.com/adafruit/Adafruit-MCP23017-Arduino-Library 
 * remapped buttons from processor to I2C port expander
 * Compilled using Arduino 1.8.2
 * 
 * Changes by dbldutch: 
 *  - added code to display the sw version in the welcome screens 
 *  - added code to display a real micro symbol instead of uV 
 *  - added code to monitor the charging level of a NiCAD/NiMH cell 
 *  - changed code to display decimal digits based on volts measured. 
 *  
 *  - Version 2.00:
 *  - stripped the 4LSB in the Read_ADC, before averaging. They add no value here.
 *    Calibration uses a larger sample size. Added a loop counter to show progress.
 *    
 *  - Version 3.00 : 
 *  - Changed from average based sampling to an Infinite Input Response (IIR) filter design.
 *    Details found here: https://github.com/arduino/Arduino/issues/3934
 *    and here : https://en.m.wikipedia.org/wiki/Infinite_impulse_response
 *  - Created a dynamic ADC conversion delay for the LTC2400 to wring out some idling time.
 *  - Changed to EEPROM.put & .get to also store floats. Eliminated the previous functions.
 *  - With the IIR filtering, there is no need for reduced decimals. Eliminated the code.
 *  - Added a calibration to a voltage reference to tweak the accuracy.
 *  
 *  - Version 3.10:
 *  - Added a dynamic filter weight algorithm to the IIR filter.
 *  
 *  - Version 3.11:
 *  - Changed the conversion delay to (re)start at the end of the LCD update cycle, such that the LTC
 *    has 165 mSec of "quiet" time on the power and data lines to do the sampling.
 *  - Fixed a compounded rounding error of the IIR filter calculation.
 *  - Added the filter weight exponent multiplier to the display.
 *  
 *  - Version 3.12:
 *  - Added some tweaks and changes to allow a precise calibration of the reference voltage. This
 *    largely determines the linearity of the meter. 
 * 
 *   Software version:
 */
String SW_VERSION = " Version 3.20";

/*
 * Battery indicator level:
 * - Analog pin A0 (via a 20K:10K divider) [10K is minimum value for the A2D]
 */
 
#include <SPI.h>                         // include SPI library (Serial Peripheral Interface)
#include <Wire.h>                        // include I2C library
#include <Adafruit_MCP23017.h>           // include I2C for MCP23017 port expander
#include <Adafruit_RGBLCDShield.h>       // include Adafruit RGB I2C Display
                                         // 
#include <EEPROM.h>                      // include EEPROM library

//---- initialize the i2c/LCD library
Adafruit_RGBLCDShield lcd = Adafruit_RGBLCDShield();

// These #defines make it easy to set the backlight color
#define RED 0x1
#define YELLOW 0x3
#define GREEN 0x2
#define TEAL 0x6
#define BLUE 0x4
#define VIOLET 0x5
#define WHITE 0x7

//---- LT 2400 ADC convertor
const int LTC_CS = 10;                   // set ADC chip select pin !CS (!SS) to Arduino pin D10
                                         // SPI SLCK is D13, SDO (MISO) is D12
long adcread;                            // reading from the ADC (LTC2400)
int ct = 165;                            // ADC converstion time is 160mS typical, +/-3.2 mS (data sheet)
unsigned long ct_start;                  // seed the conversion start timestamp
unsigned long ct_chk;                    // the entry timestamp, used to dynamically create the delay
float volt;                              // voltage reading from ADC

                                         // Following measurements * were made after a warm up
                                         // This is a critical measurement because it determines the linearity of the meter
                                         
float v_ref = 4.09674;                   // ADR4540B Reference Voltage measured with a 6.5 digit calibrated multimeter *

//---- IIR Low Pass Filtering with a dynamic filter weight algorithm
float average;                           // holds the result of the filter
int filterWeight = 32;                   // from 4..64 Higher numbers = heavier filtering
int fw_multiplier = 1;                   // multiplier for the filterWeight calculation
int noise_level = 96;                    // 96 is +/- 234 uV input voltage differential

//---- Zero offset Calibration
int CalSetup = 0;                        // calibration check
int DecPlaces = 0;                       // limit to the number of decimal places on display
long zero_cal;                           // calibration adjustment factor
long zc_address = 0L;                    // set EEPROM memory start address location 0..3
const int cal_adj_samples = 127;         // number of samples

//---- Calibration Factor
float cal_factor = 1.0;                  // calibration factor to adjust for the linearity errors
float cal_avg;                           // the resulting value of the filter
float cal_2_1v_ref = 2.04808;            // 2.048 V ref actual voltage to 5 places *
float cal_2_5v_ref = 2.50011;            // 2.500 V ref actual voltage to 5 places *
float cal_5v_ref = 5.00002;              // 5.000 V ref actual voltage to 5 places *
float cal_10v_ref = 9.99987;             // 10.00 V ref actual voltage to 5 places *
long cf_address = 5L;                    // EEPROM address 5..8

//---- Display the result to the LCD
String v;                                // string to hold the V, mV or uV string data for the display
String micro;                            // string to hold the real micro character
int dec_adj = 0;                         // decimal places adjustment [0..6], set manually by the button
int dec_digit = 6;                       // integer that holds number of decimal places displayed on LCD
int dTV = 5;                             // default is 10.00000 V for 10 Volt and above
int dV = 6;                              // default is 1.000000 V for 1-9 Volt range
int dmV = 4;                             // default is 100,0000 mV for MilliVolt range
int duV = 0;                             // default is 1000000 uV for MicroVolt range

//---- Arduino ADC Battery check
int batt = A0;                           // the 9V NiMH or NiCAD battery
int check_v = 0;                         // check the battery voltage
int loop_cnt = 365;                      // check it approx. every minute (loop time is 0.165 Sec)
float adc_cal = 0.0;                     // ADC calibration value
float adc_ref_volts = 5.14;              // external volt reference (VCC) -> measured
float adc_res = 1024;                    // 10 bit ADC resolution
const int adc_samples = 4;               // set number of sample readings to average the result

// Create a set of new symbols that can be displayed on the LCD
byte batt_full[8] =                      // full battery symbol, displayed at 9V
  {
  B01110,B11111,B11111,B11111,B11111,B11111,B11111,B11111
  };
byte batt_8_7[8] =                       // 8.7V level
  {
  B00000,B01110,B11111,B11111,B11111,B11111,B11111,B11111
  };
byte batt_8_3[8] =                       // 8.3V level
  {
  B00000,B00000,B01110,B11111,B11111,B11111,B11111,B11111
  };
byte batt_8_0[8] =                       // 8.0V level
  {
  B00000,B00000,B00000,B01110,B11111,B11111,B11111,B11111
  };
byte batt_7_7[8] =                       // 7.7V level
  {
  B00000,B00000,B00000,B00000,B01110,B11111,B11111,B11111
  };
byte batt_7_5[8] =                       // 7.5V level
  {
  B00000,B00000,B00000,B00000,B00000,B01110,B11111,B11111
  };
byte batt_empty[8] =                     // <7.3V Empty
  {
  B00100,B00100,B00100,B00000,B00100,B00000,B01110,B11111
  };
byte batt_charging[8] =                  // >10V Charging symbol
  {
  B00010,B00100,B01000,B11111,B00010,B10100,B11000,B11100
  };


// ******** Initialization routine, runs only at start or reboot ********
void setup() {
  // Serial.begin(9600); // ==>> activate for debug and test only

  micro = char(228);                     // real micro symbol is char(b11100100)

  pinMode (LTC_CS, OUTPUT);              // set LTC_CS (pin D10 on Arduino Nano) to OUTPUT mode
  digitalWrite(LTC_CS, HIGH);            // set LCT2400 chip select pin HIGH to disable
                                         // initialize digital pin LED_BUILTIN as an output.
  SPI.begin();                           // initialise SPI bus
  SPI.setBitOrder(MSBFIRST);             // Sets the order of bits shifted out and in to SPI bus, MSBFIRST (most-significant bit first)
  SPI.setDataMode(SPI_MODE0);            // set SPI to Mode 0 (MOSI read on rising edge (CPLI=0) and SCK idle low (CPOL=0))
  SPI.setClockDivider(SPI_CLOCK_DIV16);  // divide Arduino clock by 16 to gave a 1 MHz SPI clock

  lcd.begin(16, 2);                      // set up the LCD's number of columns and rows
  lcd.setBacklight(GREEN);               // set LCD backlight color to Green
  lcd.setCursor(0,0);                    // set LCD cursor to column 0, row O (start of first line)
  lcd.print("Millivolt Meter ");
  lcd.setCursor(0,1);
  lcd.print(SW_VERSION);                 // print software version to display
  delay(2500);
  lcd.clear();                           // clear dislay
  lcd.setCursor(0,0);                    // set LCD cursor to column 0, row O (start of first line)

//  ==>> only for testing!
/*
  zero_cal = 0;                          // Start with a clean slate
  Serial.println(zero_cal);
  EEPROM.put(zc_address,zero_cal);       // store calibration factor in EEPROM
  EEPROM.get(zc_address,zero_cal);       // retrieve calibration factor in EEPROM 
  Serial.println(zero_cal); 
  cal_factor = 1.0;
  Serial.println(cal_factor, 6); 
  EEPROM.put(cf_address,cal_factor);     // store calibration factor in EEPROM
  EEPROM.get(cf_address,cal_factor);
  Serial.println(cal_factor, 6);
*/

  EEPROM.get(zc_address, zero_cal);      // get the zero cal factor from EEPROM
  EEPROM.get(cf_address, cal_factor);    // get the cal factor from EEPROM

  lcd.clear();                           // clear dislay
  lcd.setBacklight(YELLOW);              // set LCD backlight color to Yellow
  lcd.setCursor(0,0);                    // set LCD cursor to column 0, row O (start of first line)
  lcd.print("Zero Cal Factor:");
  lcd.setCursor(0,1);
  lcd.print(zero_cal);                   // Briefly show calibration factor stored in EEPROM at switch on
  delay(2000);
  lcd.clear();                           // clear dislay
  lcd.setCursor(0,0);                    // set LCD cursor to column 0, row O (start of first line)
  lcd.print("V-Cal Factor:");
  lcd.setCursor(0,1);
  lcd.print(cal_factor, 6);              // Briefly show calibration factor stored in EEPROM at switch on
  delay(2000);
  lcd.clear();
  lcd.setBacklight(GREEN);               // set LCD backlight color to Green
  lcd.setCursor(0,0);                    // set LCD cursor to column 0, row O (start of first line)
  lcd.print("Millivolt Meter  ");        // print Millivolt Meter to display and clear the rest
  
  // create a set of special symbols from the battery monitor definitions above
  lcd.createChar (0, batt_full);         // >9V
  lcd.createChar (1, batt_8_7);          // 8.7V
  lcd.createChar (2, batt_8_3);          // 8.3V
  lcd.createChar (3, batt_8_0);          // 8.0V
  lcd.createChar (4, batt_7_7);          // 7.7V
  lcd.createChar (5, batt_7_5);          // 7.5V
  lcd.createChar (6, batt_empty);        // <7.3V measurements can be inaccurate!
  lcd.createChar (7, batt_charging);     // > 10V charging and connected to wall-wart
  analogReference(DEFAULT);              // not needed here, use the external or default (=internal) A2D reference

  Monitor_batt();                        // get the battery level and show it on the display
  
  ct_start = millis();                   // seed the conversion start timestamp for the LTC2400
  for (int i=0;i<5;i++) {                // disregard the first five readings as they seem unstable
    average = Spi_Read();                // and also seed the IIR filter
  }
}


/**************************************************************************************
 * Routine to read the data from the LTC2400 A2D convertor through the SPI interface
 */
long Spi_Read(void){                     // SPI(Serial Peripheral Interface) read sub-routine to read data form the LTC2400 ADC
                                         // and transfer 8 bits (1 byte) at a time - total of 4 bytes.
  long result = 0L;                      // result represents rolling total of the bytes transferred
  long b;                                // b is result of reading ADC output bytes

  //calculate the minimum conversion delay dynamically
  ct_chk = millis();
  unsigned int ct_delay = ct_chk - ct_start; // use the time already spent and factor that in
  if (ct_delay < ct){
    delay(ct - ct_delay);                // use the adjusted conversion delay if needed
  }
  
  digitalWrite(LTC_CS, LOW);             // LTC2400 chip select pin taken low to wake up the ADC and enable the SDO (MOSI) output
  delayMicroseconds(1);                  // timing delay but is not really required

  if (!(PINB & (1 << 4))) {              // check for a low !EOC on the MOSI pin D12, if the ADC is ready to transmit new data
                                         // if not, try again later -> this will reduce the number of readings to average
    b = SPI.transfer(0xff);              // transfer first byte most significant bits first.
    b &= 0x0f;                           // discard first 4 status bits (bits 31 to 25) mask received data with binary 00001111
    result = b;                          // result after removing first 4 bits (replacing them with 0's)
    result <<= 8;                        // shift first byte left by 8 places
    b = SPI.transfer(0xff);              // transfer second byte most significant bits first.
    result |= b;                         // add second byte to first byte by using the OR function (now 12 bits)
    result = result << 8;                // shift result left by 8 places
    b = SPI.transfer(0xff);              // transfer third byte most significant bits first.
    result |= b;                         // add third byte to result by using the OR function (now 20 bits)
    result = result << 8;                // shift result left by 8 places
    b = SPI.transfer(0xff);              // transfer fourth byte most significant bits first.
    result |= b;                         // add fourth byte to result by using the OR function (now 28 bits)
    result = result >> 4;                // get rid of the 4 LSB bits, they don't add any value in this application
  
    digitalWrite(LTC_CS, HIGH);          // LTC2400 chip enters low power (sleep mode) and disables the ADC output.
    ct_start = millis();                 // start the conversion delay timer (restarted at the end of the main loop)
    return(result);                      // return with result as the 24 bit data representing the voltage
  }
}


/**************************************************************************************
 * Routine to run a zero offset calibration.
 * We'll calculate the input offset by manually shortening the input.
 */
void Zero_Cal_Adjust() {
  lcd.clear();
  lcd.setBacklight(RED);                // set LCD backlight to Red
  lcd.setCursor(0,0);
  lcd.print("=Zero Calibrate");
  lcd.setCursor(0,1);
  lcd.print("Short input");
  delay(3000);

  int cal_counter = cal_adj_samples;    // total number of readings
  average = Spi_Read();                 // seed the IIR filter

  for (int i=0; i < cal_adj_samples; i++) {  // create a moving average with an IIR filter
    average = average + (Spi_Read() - average) / 64; // maximum filterweight
    // show the progress
    lcd.setCursor(14,1);
    if (cal_counter < 10){              // get rid of the first decimal number               
      lcd.print(" ");
    }
    lcd.print(cal_counter);
    cal_counter--;
  }
  zero_cal = round(average);            // round to the next integer value
  EEPROM.put(zc_address, zero_cal);     // store binary offset calibration factor in EEPROM
  
  lcd.clear();
  lcd.setCursor(0,0);
  lcd.print("Zero Cal Adjust:");
  lcd.setCursor(0,1);
  lcd.print(zero_cal);
  delay(3000);
  lcd.clear();
  lcd.setBacklight(GREEN);               // set LCD backlight to Green
  lcd.setCursor(0,0);
  lcd.print("Millivolt Meter  ");        // print Millivolt Meter to display and clear the rest
  DecPlaces = 0;                         // if decimal places got changed, reset it
  Monitor_batt();                        // the batt level display got erased, get it back 
}


 /**************************************************************************************
 * Routine to run the voltage calibration against a voltage reference.
 * The calibration factor is creatad by connecting a 2.500 reference 
 * to the input. This will enhance the linearity of the conversion.
 */
void Ref_Cal_Adjust2() {
  lcd.clear();
  lcd.setBacklight(BLUE);                  // set LCD backlight to Blue
  lcd.setCursor(0,0);
  lcd.print("=2.5V-Ref Cal");
  lcd.setCursor(0,1);
  lcd.print("Connect V-Ref");
  delay(3000);

  int cal_counter = cal_adj_samples;        // total number of readings
  cal_avg = Spi_Read();                     // seed the IIR filter

  for (int i=0; i < cal_adj_samples; i++) { // create a moving average with an IIR filter
    cal_avg = cal_avg + (Spi_Read() - cal_avg) / 64;  // maximum filter weight
    // show the progress
    lcd.setCursor(14,1);
    if (cal_counter < 10){                  // get rid of the first decimal number               
      lcd.print(" ");
    }
    lcd.print(cal_counter);
    cal_counter--;
  }
  // convert filtered result to volt and include the reference, the input divider
  // and the zero cal. The zero cal must be done before the reference cal.
  float ref_volt = (cal_avg - zero_cal) * v_ref / 16777216 * 10; 
  cal_factor = (cal_2_5v_ref - ref_volt);  // absolute difference
  cal_factor = 1 + (cal_2_5v_ref - ref_volt)/cal_2_5v_ref; // multiplication cal factor per volt
  EEPROM.put(cf_address, cal_factor);    // store the calibration factor in EEPROM
  
  lcd.clear();
  lcd.setCursor(0,0);
  lcd.print("VRef Cal Factor:");
  lcd.setCursor(0,1);
  lcd.print(cal_factor, 6);
  delay(3000);
  lcd.clear();
  lcd.setBacklight(GREEN);               // set LCD backlight to Green
  lcd.setCursor(0,0);
  lcd.print("Millivolt Meter  ");        // print Millivolt Meter to display and clear the rest
  DecPlaces = 0;                         // if decimal places got changed, reset it
  Monitor_batt();                        // the batt level display got erased, put it back
}


 /**************************************************************************************
 * Routine to run the voltage calibration against a voltage reference.
 * The calibration factor is creatad by connecting a 5.0V reference 
 * to the input. This will enhance the linearity of the conversion.
 */
void Ref_Cal_Adjust5() {
  lcd.clear();
  lcd.setBacklight(BLUE);                  // set LCD backlight to Blue
  lcd.setCursor(0,0);
  lcd.print("=5.0V-Ref Cal");
  lcd.setCursor(0,1);
  lcd.print("Connect V-Ref");
  delay(3000);

  int cal_counter = cal_adj_samples;        // total number of readings
  cal_avg = Spi_Read();                     // seed the IIR filter

  for (int i=0; i < cal_adj_samples; i++) { //create a moving average with an IIR filter
    cal_avg = cal_avg + (Spi_Read() - cal_avg) / 64;  // maximum filter weight
    // show the progress
    lcd.setCursor(14,1);
    if (cal_counter < 10){                  // get rid of the first decimal number               
      lcd.print(" ");
    }
    lcd.print(cal_counter);
    cal_counter--;
  }
  // convert filtered result to volt and include the reference, the input divider
  // and the zero cal. The zero cal must be done before the reference cal.
  float ref_volt = (cal_avg - zero_cal) * v_ref / 16777216 * 10; 
  cal_factor = (cal_5v_ref - ref_volt);  // absolute difference
  cal_factor = 1 + (cal_5v_ref - ref_volt)/cal_5v_ref; // multiplication cal factor per volt
  EEPROM.put(cf_address, cal_factor);    // store the calibration factor in EEPROM
  
  lcd.clear();
  lcd.setCursor(0,0);
  lcd.print("VRef Cal Factor:");
  lcd.setCursor(0,1);
  lcd.print(cal_factor, 6);
  delay(3000);
  lcd.clear();
  lcd.setBacklight(GREEN);               // set LCD backlight to Green
  lcd.setCursor(0,0);
  lcd.print("Millivolt Meter  ");        // print Millivolt Meter to display and clear the rest
  DecPlaces = 0;                         // if decimal places got changed, reset it
  Monitor_batt();                        // the batt level display got erased, put it back
}

 /**************************************************************************************
 * Routine to run the voltage calibration against a voltage reference.
 * The calibration factor is creatad by connecting a 2.048V reference 
 * to the input. This will enhance the linearity of the conversion.
 * This cal was 7.5V but since I have a 2.048 reference it was changed. 
 */
void Ref_Cal_Adjust2_1() {
  lcd.clear();
  lcd.setBacklight(BLUE);                  // set LCD backlight to Blue
  lcd.setCursor(0,0);
  lcd.print("=2.048V-Ref Cal");
  lcd.setCursor(0,1);
  lcd.print("Connect V-Ref");
  delay(3000);

  int cal_counter = cal_adj_samples;        // total number of readings
  cal_avg = Spi_Read();                     // seed the IIR filter

  for (int i=0; i < cal_adj_samples; i++) { // create a moving average with an IIR filter
    cal_avg = cal_avg + (Spi_Read() - cal_avg) / 64;  // maximum filter weight
    // show the progress
    lcd.setCursor(14,1);
    if (cal_counter < 10){                  // get rid of the first decimal number               
      lcd.print(" ");
    }
    lcd.print(cal_counter);
    cal_counter--;
  }
  // convert filtered result to volt and include the reference, the input divider
  // and the zero cal. The zero cal must be done before the reference cal.
  float ref_volt = (cal_avg - zero_cal) * v_ref / 16777216 * 10; 
  cal_factor = (cal_2_1v_ref - ref_volt);  // absolute difference
  cal_factor = 1 + (cal_2_1v_ref - ref_volt)/cal_2_1v_ref; // multiplication cal factor per volt
  EEPROM.put(cf_address, cal_factor);    // store the calibration factor in EEPROM
  
  lcd.clear();
  lcd.setCursor(0,0);
  lcd.print("VRef Cal Factor:");
  lcd.setCursor(0,1);
  lcd.print(cal_factor, 6);
  delay(3000);
  lcd.clear();
  lcd.setBacklight(GREEN);               // set LCD backlight to Green
  lcd.setCursor(0,0);
  lcd.print("Millivolt Meter  ");        // print Millivolt Meter to display and clear the rest
  DecPlaces = 0;                         // if decimal places got changed, reset it
  Monitor_batt();                        // the batt level display got erased, put it back
}

 /**************************************************************************************
 * Routine to run the voltage calibration against a voltage reference.
 * The calibration factor is creatad by connecting a 10.000V reference 
 * to the input. This will enhance the linearity of the conversion.
 */
void Ref_Cal_Adjust10() {
  lcd.clear();
  lcd.setBacklight(BLUE);                 // set LCD backlight to Blue
  lcd.setCursor(0,0);
  lcd.print("=10.0V-Ref Cal");
  lcd.setCursor(0,1);
  lcd.print("Connect V-Ref");
  delay(3000);

  int cal_counter = cal_adj_samples;        // total number of readings
  cal_avg = Spi_Read();                     // seed the IIR filter

  for (int i=0; i < cal_adj_samples; i++) { //create a moving average with an IIR filter
    cal_avg = cal_avg + (Spi_Read() - cal_avg) / 64;  // maximum filter weight
    // show the progress
    lcd.setCursor(14,1);
    if (cal_counter < 10){                  //get rid of the first decimal number               
      lcd.print(" ");
    }
    lcd.print(cal_counter);
    cal_counter--;
  }
  // convert filtered result to volt and include the reference, the input divider
  // and the zero cal. The zero cal must be done before the reference cal.
  float ref_volt = (cal_avg - zero_cal) * v_ref / 16777216 * 10; 
  cal_factor = (cal_10v_ref - ref_volt);  // absolute difference
  cal_factor = 1 + (cal_10v_ref - ref_volt)/cal_10v_ref; // multiplication cal factor per volt
  EEPROM.put(cf_address, cal_factor);    // store the calibration factor in EEPROM
  
  lcd.clear();
  lcd.setCursor(0,0);
  lcd.print("VRef Cal Factor:");
  lcd.setCursor(0,1);
  lcd.print(cal_factor, 6);
  delay(3000);
  lcd.clear();
  lcd.setBacklight(GREEN);               // set LCD backlight to Green
  lcd.setCursor(0,0);
  lcd.print("Millivolt Meter  ");        // print Millivolt Meter to display and clear the rest
  DecPlaces = 0;                         // if decimal places got changed, reset it
  Monitor_batt();                        // the batt level display got erased, put it back
}


/**************************************************************************************
 * routine to check if the button was pressed, and depending on the length, decide what action to take
 */
void Button_press() {
   uint8_t buttons = lcd.readButtons();
                                          // Buttons availible on I2C LCD header: A0=SELECT, A1=RIGHT,
      if (buttons) {                      //  A2=DOWN, A3=UP, A4=LEFT - Positions: GND,A0,A1,A2,A3,A4
        
        lcd.setCursor(15, 1);             // placeholder for the button press ack
        lcd.print("0");                   // back to default

        if (buttons & BUTTON_SELECT) {    // 0.000 V Cal Input Shorted Position A0
          Zero_Cal_Adjust();
        }
        if (buttons & BUTTON_RIGHT) {     // 2.500 V Cal Position A1
          Ref_Cal_Adjust2();
        }
        if (buttons & BUTTON_DOWN) {      // 5.000 V Cal Position A2
          Ref_Cal_Adjust5();
        }
        if (buttons & BUTTON_UP) {        // 10.000 V Cal Position A3
          Ref_Cal_Adjust10();
        }
        if (buttons & BUTTON_LEFT) {      // Extra Button Position A4 - Not Used
          Zero_Cal_Adjust(); 
        }
      }  
}


/**************************************************************************************
 * The battery level monitor routine
 */
void Monitor_batt() {
  int i;
  long sum = 0;
  int sensorValue; 
  for (i=0; i<(adc_samples); i++) {
    sensorValue = analogRead(batt) + adc_cal; // read from A0 and add the calibration factor
    delay(100);
    sum += sensorValue;
  }
  sum = sum / adc_samples;

  float batt_voltage = sum;
  // Convert the analog reading (which goes from 0 - 1023) to a voltage 0 - 12V:
 
  // batt_voltage = (sensorValue * (adc_ref_volts / adc_res) * 3) + adc_cal;
  batt_voltage = 9.5;  // ****** UN-COMMENT line above, and COMMENT out this line to use BATTERY MONITOR ******
  
  /*  note that during the test with a potmeter connected to 5V, the resulting maximum volt level is just below
   *  20V, if you connect to a PC with a USB cable for power.
   *  With the power coming from the 78L12, the maximum level will be 20V, unless you create a voltage divider to
   *  limit the maximum voltage coming from the potmeter to 3V, which is equal to the 20K:10K divider to the cell.
   */

  // print out the "battery" voltage level at the right-hand fields of the first line
  lcd.setCursor(15, 0);                  // start of the batt level field (line 1, last position)

  if (batt_voltage < 7.3) {              // critical batt level for the reference and the ADC is < 7.3V
    lcd.print(char(6));                  // battery is empty!
    } else if (batt_voltage < 7.7 && batt_voltage > 7.3){  // batt getting too low, connect to mains or stop
      lcd.print(char(5));                // stop measuring
    } else if (batt_voltage < 8.0 && batt_voltage > 7.7){  // batt charge is getting critical
      lcd.print(char(4));                //
    } else if (batt_voltage < 8.3 && batt_voltage > 8.0){  // batt charge is OK
      lcd.print(char(3));                //
    } else if (batt_voltage < 8.7 && batt_voltage > 8.3){  // batt charge is OK
      lcd.print(char(2));                //
    } else if (batt_voltage < 8.9 && batt_voltage > 8.7){  // batt charge is OK
      lcd.print(char(1));                //
    } else if (batt_voltage < 10 && batt_voltage > 8.9){   // batt is full
      lcd.print(char(0));
    } else if (batt_voltage > 10){       // batt is charging
      lcd.print(char(7));                // charging
    }
}


/**************************************************************************************
 * The main routine
 */
void loop() {
  
  // The minimum (also normal) looptime is 166 mSec, determined by the aquisition delay of the LTC2400
  
  Button_press();                        // check if the button was pressed

  // Check the battery level approx. every minute
  if (check_v > loop_cnt) {
      check_v = 0;
      Monitor_batt();                    // checking the battery level takes about 810 mSec
  } else {
    check_v ++;
  }

  // Take a new raw LTC2400 reading
  adcread = Spi_Read();
  
  // Check if the new reading is outside the noise level band of the filtered result
  // and dynamically adjust the filter weight accordingly.
  if ((adcread > average + noise_level)||(adcread < average - noise_level)){
                                        // reading is outside the noise band
    fw_multiplier--;                    // scale the filterWeight down with powers of 2
    if (fw_multiplier < 1){             // lower limit to 2<<1 = 4
      fw_multiplier = 1;                // bottom-out
      average = adcread;                // and reset the filter
      } 
  }else{                                // the reading is inside the noise band
      fw_multiplier++;                  // scale the filterWeight up with powers of 2
      if (fw_multiplier > 6){           // upper limit is 2<<5 = 128 
          fw_multiplier = 6;
      }
  }
  // update the filter weight; ranges from 4..128
  filterWeight = 2 << fw_multiplier;

  /*  Run the quisition through the IIR filter and take the new reading with a
   *  grain of filterWeight salt. ie. divide the new reading by the filterWeight factor (from 4..64)
   *  Note: average must be a float, otherwise there will be a compounded rounding error in the result.
   */
  average = average + (adcread - average) / filterWeight;

  /* 
   *  Convert the filtered result to volts.
   *  16777216 = 2^24, the maximum number with 24 bits.
   *  Multiply by 10 because of the voltage divider at the inputConvert the filtered result to volts.
   *  Subtract the zero calibration factor and apply the cal_factor.
   *  The cal_factor is calculated against a known voltage reference.
   *  Cast the result to a floating point variable to get decimals.
   */
  volt = (average - zero_cal) * v_ref / 16777216 * 10 * cal_factor;
  
  // prepare for the display of the data
  
  // ==>> for debugging & Testing, to be analyzed with MS-Excel:
  /*
  Serial.print(adcread);
  Serial.print("\t");
  Serial.print(average);
  Serial.print("\t");
  Serial.println(filterWeight);
  */
  //  ==>> for testing purposes only, read and display the 9V cell instead
  //  volt = (analogRead(A0) * (adc_ref_volts / adc_res) * 2) + adc_cal;

  if (volt <0.001) {                     // check if voltage reading is below 1 milli-Volt    
    volt = volt * 1000000;               // if so multiply reading by 1.000.000 and display as micro-Volt
    v = micro + "V  " ;                  // use uV on display after voltage reading
    dec_digit = duV;                     // set display to 0 decimal places (1000000 uV)
  
  } else if (volt < 1){                  // check if voltage reading is below 1 volt
    volt = volt * 1000;                  // if below 1 volt multiply by 1.000 and display as Millivolt
    v = "mV  ";                          // use mV on display after voltage reading
    dec_digit = dmV;                     // set display to 4 decimal places (100.0000 mV)

  } else if (volt < 10){                 // check if voltage reading is below 10 volt
    v = "V  ";                           // use V on display after voltage reading
    dec_digit = dV;                      // set display to 6 decimal places (1.000000 V)
   
  } else {                               // volt is > 10V
    v = "V  ";                           // if 10 volt or higher use letter V on display after voltage reading
    dec_digit = dTV;                     // set display to 5 decimal places (10.00000 V)
  }

  lcd.setBacklight(GREEN);               // set LCD backlight to Green
  lcd.setCursor(0, 1);                   // set LCD cursor to Column 0 and Row 1 (second row of LCD, first column)
  lcd.print(volt, dec_digit);            // print voltage as floating number with x decimal places
  lcd.print(" ");                        // add one blank space after voltage reading
  lcd.print(v);                          // print either uV, mV or V to LCD display
  lcd.setCursor(12,1);
  lcd.print("fw=");
  lcd.setCursor(15,1);
  lcd.print(fw_multiplier);              // show the filterweight exponent multiplier
  
  ct_start = millis();                   // After this noisy display intermezzo, reset the LTC2400 conversion time counter
                                         // such that the ADC has the full 165 mSec to sample a new acquisition
                                         // during a quiet period.
}