Building a case for the
Programmable Voltage Reference project.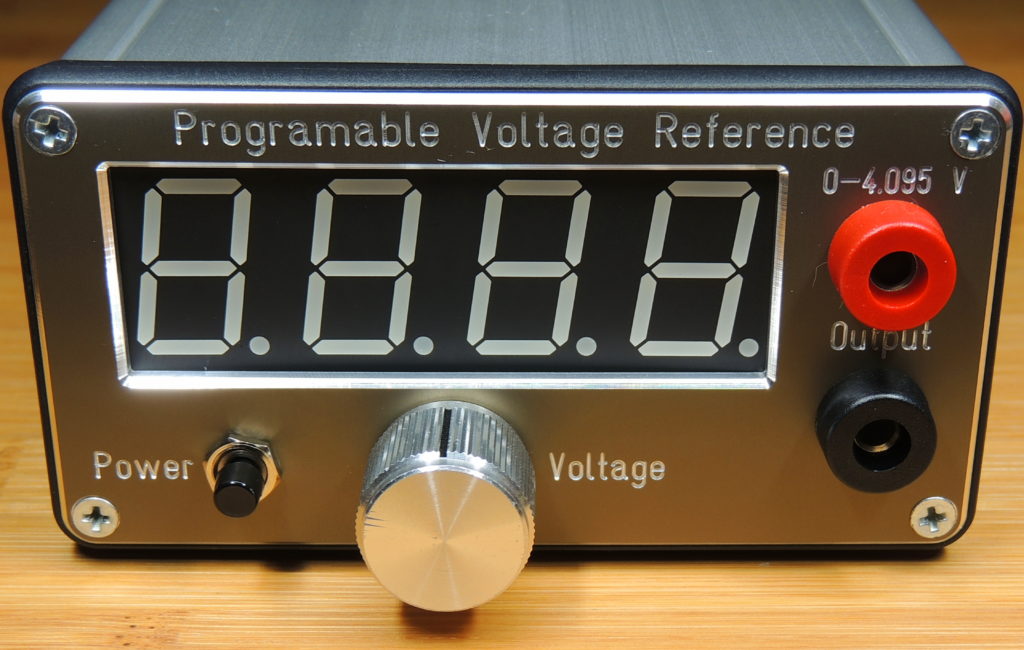 While wait­ing on the ver­sion 2.12 print­ed cir­cuit boards from OSH Park, I decid­ed to do some work on the case.
For con­sis­ten­cy I end­ed up using the same mod­el of Hammond enclo­sure that was used in sev­er­al pre­vi­ous projects. The mod­el 1455N1601 enclo­sure mea­sures 6.3″ L x 4.055″ W x 2.087″ H (160 x 103 x 53mm) and is made from extrud­ed alu­minum. The main body is an U shaped extru­sion with a flat extru­sion form­ing the top. The unit comes with 1.5mm alu­minum end plates, with a black plas­tic bezel that cov­ers the joint between the two alu­minum pieces.
I ordered a cus­tom front pan­el from Front Panel Express in the medi­um bronze anodized alu­minum, with a thick­ness of 2.5mm and an out­er bev­el of 1mm so that it would match the orig­i­nal 1.5mm pan­el depth of the plas­tic bezel.
The orig­i­nal Programmable Voltage Reference by uChip used a very small 4 dig­it 7 seg­ment HP bub­ble dis­play and a rotary encoder mount­ed on the board. The V2.12 board will have a remote dis­play, and a head­er for a RGB LED rotary encoder.
My plan is to mod­i­fy the alu­minum knob with a cen­ter light pipe to pro­vide a sta­tus indi­ca­tion of the cur­rent mode or error condition.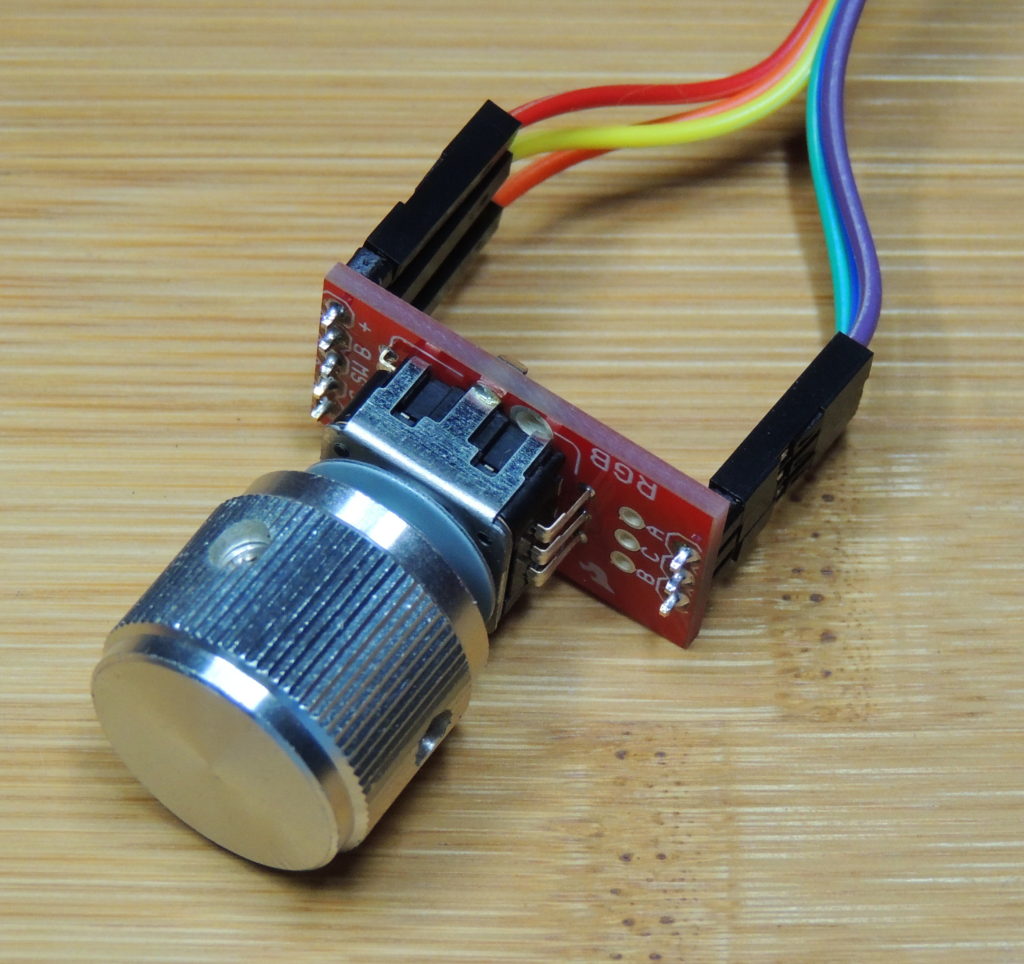 I end­ed up with a bunch of blue 4 dig­it 7 seg­ment LED dis­plays from a recent Sparkfun sale. It should be real easy to see the cur­rent volt­age set­ting on the pan­el from across the room with these!
I put togeth­er an I2C inter­face board for these dis­plays based on a design by Adafruit, using a Holtek HT16K33 RAM Mapping 16*8 LED Controller Driver chip. A nice fea­ture of this chip is a dim­ming com­mand that pro­vides dis­play dim­ming in 1/16 incre­ments. I am think­ing of uti­liz­ing this fea­ture for sav­ing bat­tery pow­er after a set time, and have the dis­play resume nor­mal bright­ness after the rotary encoder has been moved, or it's push but­ton pressed.
I made a bunch of these boards and will most like­ly use them in future projects.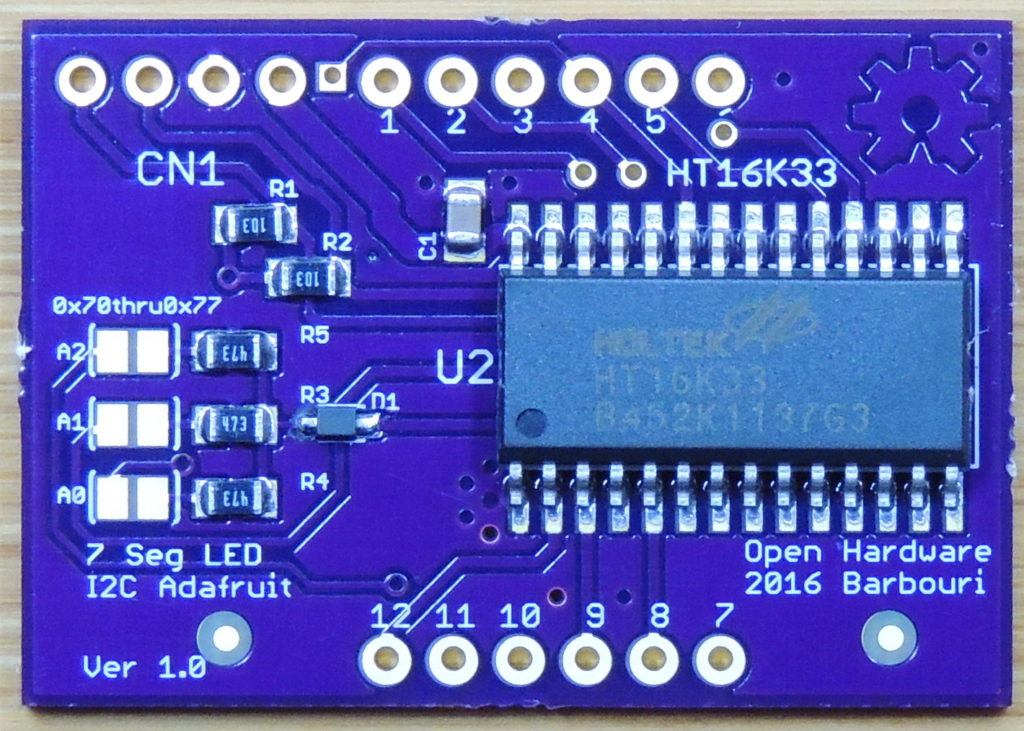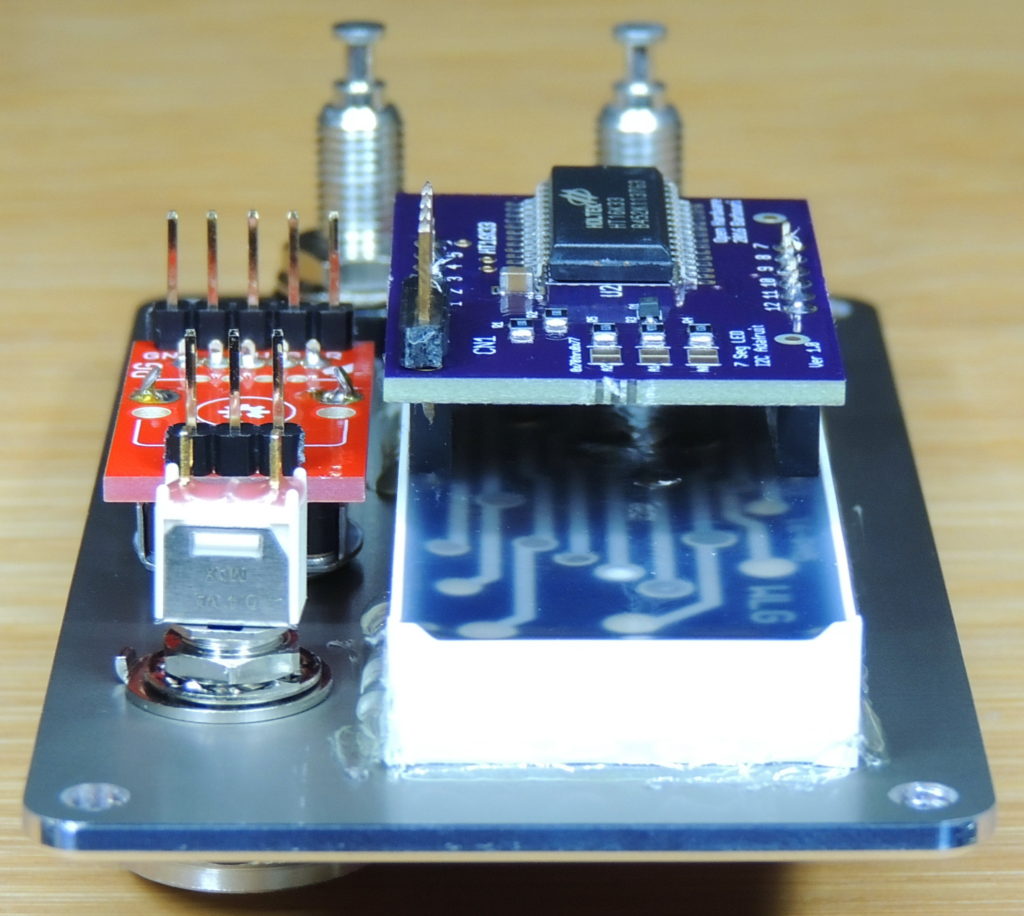 The Programmable Voltage Reference case is most­ly ready, and I am now wait­ing for the main board to arrive in the next few days. I will doc­u­ment the build and post the final results in the near future.
7 Segment X4 I2C LED back­pack V1.0 Eagle CAD Zip files
OSH Park 7 seg­ment X4 I2C LED back­pack page