Assembling the V2.12 Programmable Voltage Reference Board.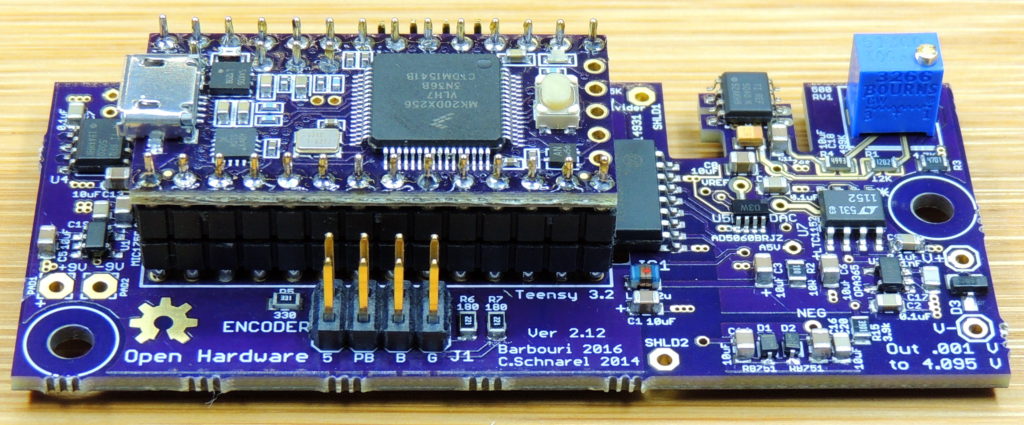 It was home­made piz­za night, so I got off to bit of a late start with board assembly.
After a thor­ough clean­ing of the board with iso­propyl alco­hol and hit­ting all the pads with a flux pen, I applied sol­der paste using a blunt tip syringe. I am cur­rent­ly using MG Chemicals 4860P Sn63/Pb37 sol­der paste with good results.
Next came the com­po­nent place­ment which went well except for the AD5060BRJZ which comes in a 8‑lead SOT-23 pack­age with a 0.65 mm lead spacing.
Refow sol­der­ing on the Presto "Liddle Griddle" elec­tric skil­let was unevent­ful, and I man­u­al­ly fol­lowed the reflow pro­file pro­vid­ed by the sol­der paste man­u­fac­ture using a non-con­tact infrared ther­mome­ter. I took spe­cial care not to over­heat or stress the Texas Instruments volt­age ref­er­ence IC's.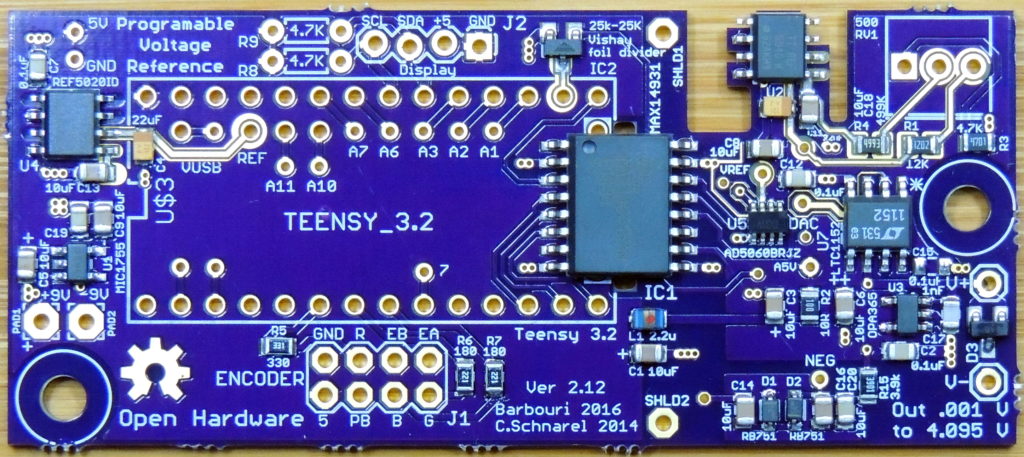 I want­ed to eas­i­ly remove the Teensy 3.2 proces­sor board if need­ed, so I used some Mill-Max 350 series inter­con­nects. Two 14 pin inter­con­nects were used for the out­er two rows and a sin­gle 5 pin inter­con­nect with one pin removed for A10, A11, REF and vUSB for the inner row.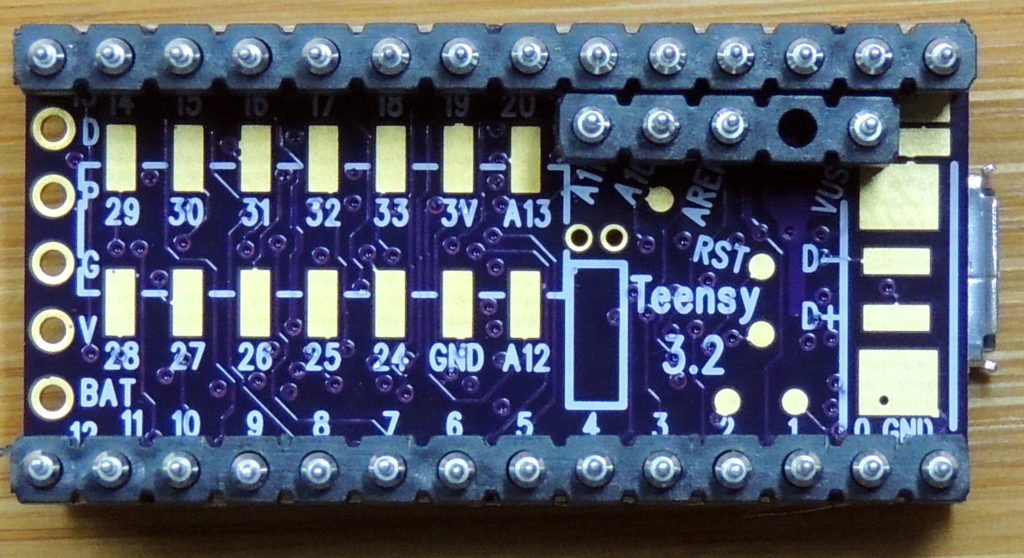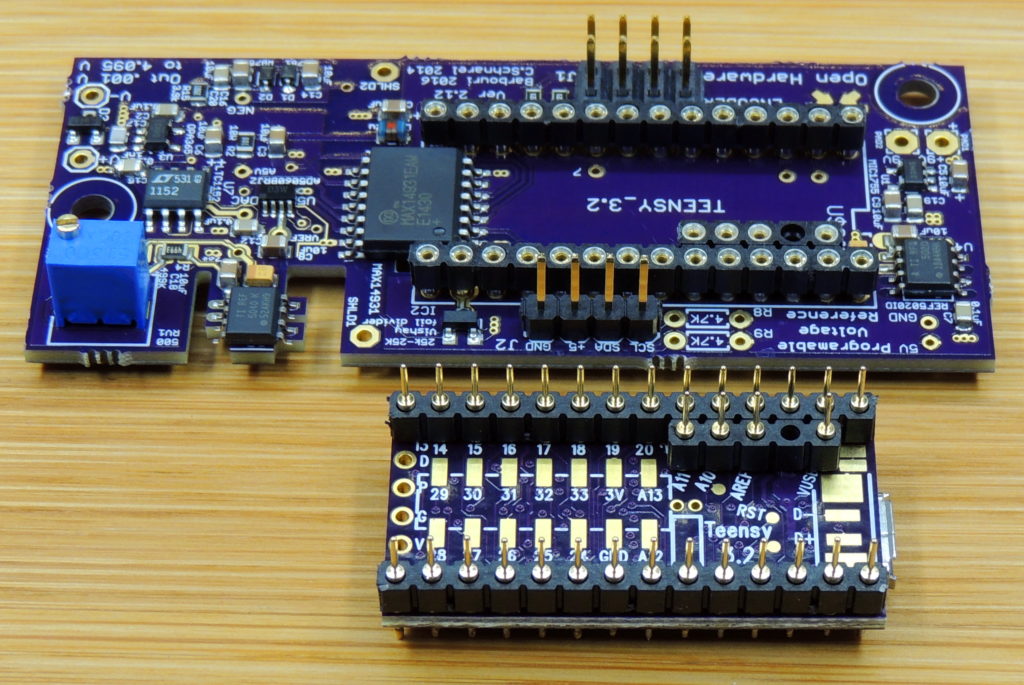 Even though the sol­der paste used is a no-clean type, I thor­ough­ly cleaned all flux residue, fin­ger prints, etc. from the main board with an iso­propyl alco­hol bath and light scrub­bing with a brush to remove all con­t­a­m­i­nants, fol­lowed by an alco­hol rinse and canned air drying.
Initial board test­ing went well, with the 5 volt rail read­ing 4.998 volts and the neg­a­tive bias sup­ply around ‑2.3 volts. Analog fil­tered 5 volt rail mea­sured 4.82 volts which is well above the 4.6 volt min­i­mum. Current draw was under 7 mA with the dis­play attached and read­ing 1.000 V.
The 2.048 volt ref­er­ence was spot-on, but when adjust­ing the trim pot for the 4.096 ref­er­ence I was at the extreme end of the adjust­ment. A 11K ohm resis­tor in place of the 12K in posi­tion R1 put the adjust­ment back in the cen­ter of the adjustable range.
I did notice an error in the silk screen for the dis­play con­nec­tor which had the +5 and GND text reversed. This has been cor­rect­ed in V2.13, along with some sol­der mask aes­thet­ic issues and the val­ue change in resis­tor R1.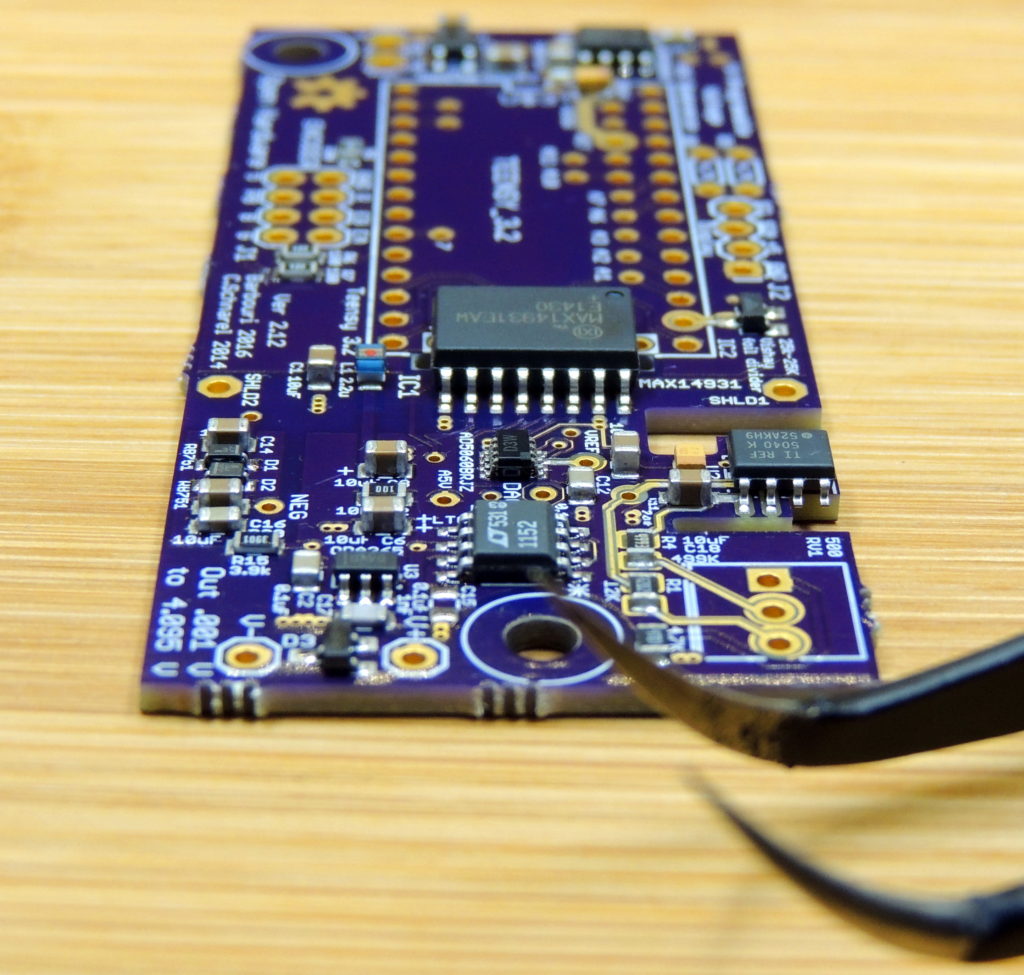 I still have a bit of soft­ware to fin­ish, but all of the major parts are completed.
One of the hard­ware fea­tures that I added to the V2.12 board was the abil­i­ty to mon­i­tor the actu­al out­put volt­age using the Teensy 3.2's 16 bit ana­log to dig­i­tal con­vert­ers. My plan is to com­pare the pro­grammed out­put volt­age against the actu­al volt­age and change a sta­tus LED from green to red if it is out­side a spec­i­fied range.
To main­tain out­put mea­sure­ment accu­ra­cy I am using a TI REF5020ID 2.048 V volt­age ref­er­ence in U4 con­nect­ed to the Teensy exter­nal vref pin. Output volt­age is sup­plied to the Teensy ana­log input via an OPA365 buffer op amp U3 and a Vishay foil resis­tor 25K-25K volt­age divider IC2.
The buffer op amp for the AD5060 dig­i­tal to ana­log con­vert­er was changed to a LTC1152 zero-drift op amp with a 10 mA sink and source capability.
Other hard­ware items added are a MAX14931 four chan­nel dig­i­tal iso­la­tor IC1 used for the SPI con­nec­tion to the DAC, and a tran­sient volt­age sup­pres­sion diode D3 for ESD pro­tec­tion across the output.
Next part is mount­ing the board in the case, alu­minum volt­age con­trol knob mod­i­fi­ca­tions, user inter­face deci­sions, pos­si­ble shield­ing for the ana­log side, BOM doc­u­men­ta­tion, and pow­er sup­ply decisions.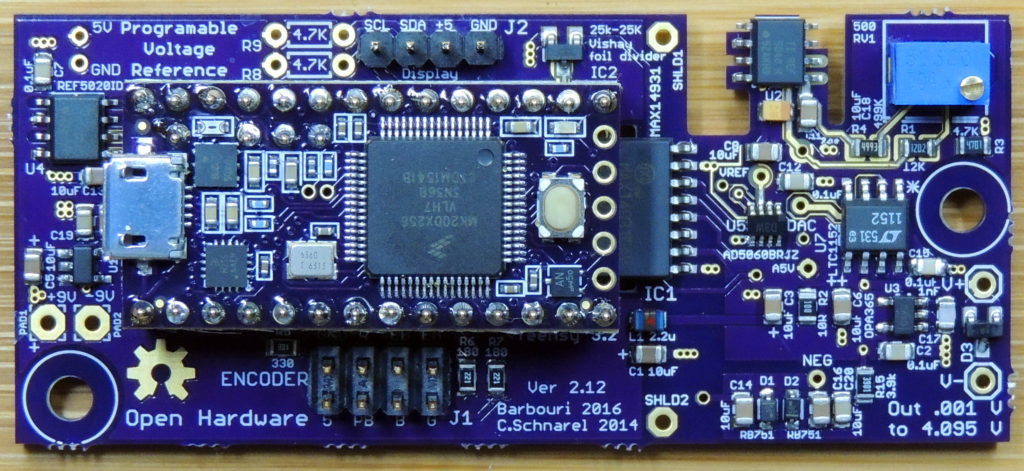 Parts and files for the Programmable Voltage Reference V2.13:
OSH Park PCB board ser­vice Project page
Eagle CAD V7.5 PDF, schemat­ic, and board ZIP file
Firmware for Teensyduino — Version 0.7 with out­put V check ZIP file
Front Panel Designer — Front pan­el for PV Reference2 ZIP file
Digikey cart for V2.13
Download Digikey CSV parts file