My Teensy 3.5 and 3.6 boards have arrived!
I have used the Teensy 3.2 for many of my projects that need­ed a fast micro­con­troller. The most recent project was the Programmable Voltage Reference.
So I was real­ly excit­ed when pjrc start­ed a Kickstarter cam­pain for a 180 MHz ARM Cortex-M4 micro­con­troller with FPU and imme­di­ate­ly entered a pledge for the "Starter Combo" which includ­ed one each of the 3.5 and 3.6 boards.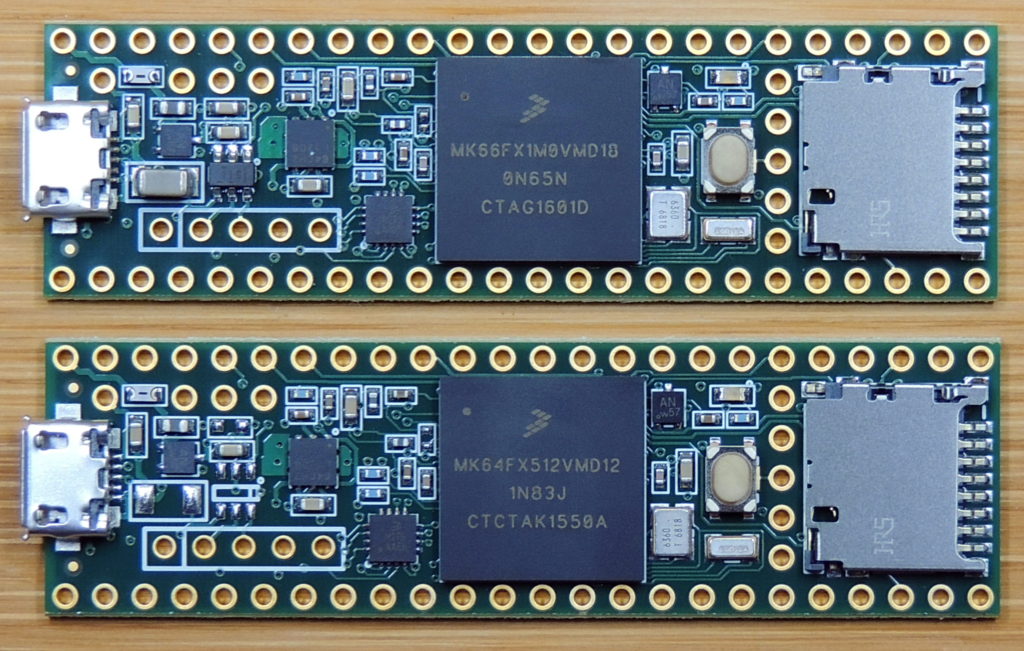 Technical Features
&

Specifications

Features spe­cif­ic to Teensy 3.6:
180 MHz

ARM

Cortex-M4 with Floating Point Unit

1M

Flash,

256K

RAM

,

4K

EEPROM

Microcontroller Chip

MK66FX1M0VMD18

(

PDF

link)

USB

High Speed (480 Mbit/sec) Port
2

CAN

Bus Ports
32 General Purpose

DMA

Channels
22

PWM

Outputs
4

I2C

Ports
11 Touch Sensing Inputs
Features spe­cif­ic to Teensy 3.5:
120 MHz

ARM

Cortex-M4 with Floating Point Unit

512K

Flash,

192K

RAM

,

4K

EEPROM

Microcontroller Chip

MK64FX512VMD12

(

PDF

link)
1

CAN

Bus Port
16 General Purpose

DMA

Channels
5 Volt Tolerance On All Digital I/O Pins
Features com­mon to both:
62 I/O Pins (42 bread­board friendly)
25 Analog Inputs to 2 ADCs with 13 bits resolution
2 Analog Outputs (DACs) with 12 bit resolution
20

PWM

Outputs (Teensy 3.6 has 22

PWM

)

USB

Full Speed (12 Mbit/sec) Port
Ethernet mac, capa­ble of full 100 Mbit/sec speed
Native (4 bit

SDIO

) micro

SD

card port

I2S

Audio Port, 4 Channel Digital Audio Input

&

Output
14 Hardware Timers
Cryptographic Acceleration Unit
Random Number Generator

CRC

Computation Unit
6 Serial Ports (2 with

FIFO

&

Fast Baud Rates)
3

SPI

Ports (1 with

FIFO

)
3

I2C

Ports (Teensy 3.6 has a 4th

I2C

port)
Real Time Clock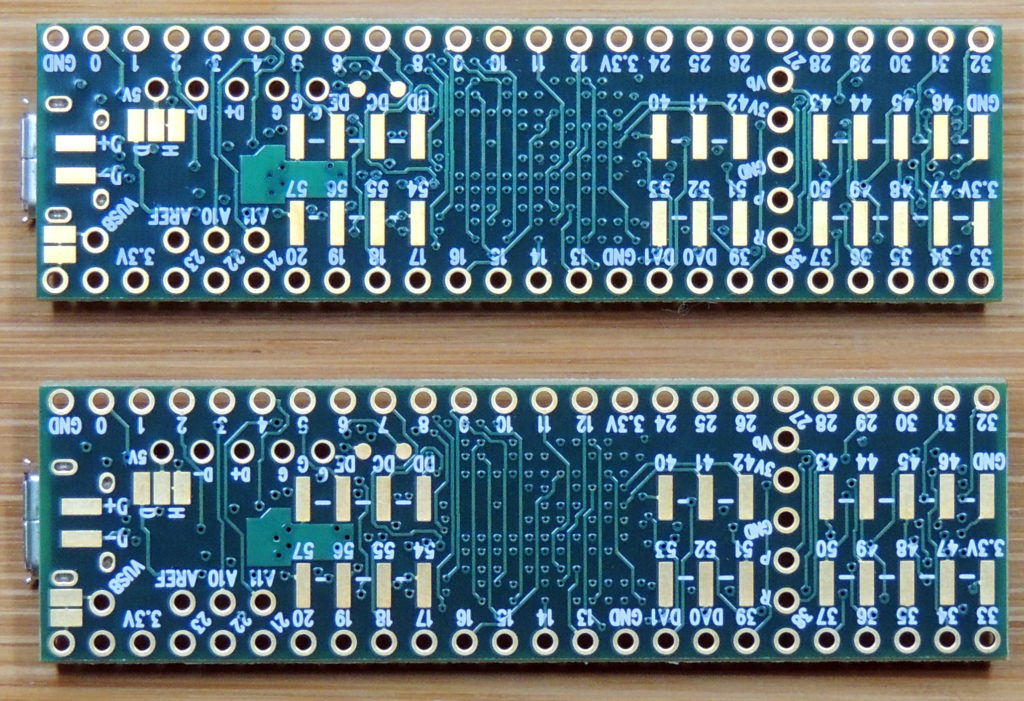 Looking for­ward to try­ing these out soon.
Currently in-stock (low) at the PJRC Store