Fixing issues with the 4 dig­it plus mode revi­sion 1.1 mul­ti­me­ter board.
Although the revi­sion 1.1 boards worked very well, I was hop­ing that the orig­i­nal Power Designs, Inc. volt­age divider cir­cuit would be accu­rate enough to sup­port the extra dig­it of res­o­lu­tion. I also opt­ed for bodg­ing thru-hole resis­tors in the rev. 1.1 mul­ti­me­ter board design to make it eas­i­er to change resis­tors if I did need to make resis­tance cor­rec­tions.
I was not ter­ri­bly sur­prised when I mea­sured the out­put volt­age against the dis­played volt­age and saw a 14 mV dif­fer­ence at 10 volts. After sev­er­al changes of resis­tors I found a com­bi­na­tion that result­ed in less than 3 mV of dif­fer­ence between the dis­play and the out­put with good lin­ear­i­ty across the entire range.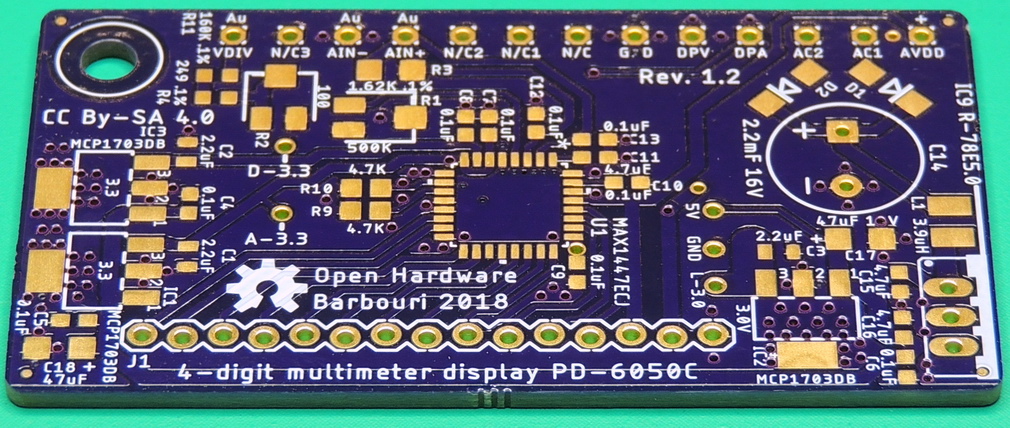 After a few hours of work I mod­i­fied the orig­i­nal revi­sion 1.1 design to incor­po­rate a sur­face mount volt­age divider net­work with a fine adjust 12 turn trim-pot. I also mod­i­fied place­ment of a few oth­er com­po­nents for ease of assem­bly, along with cor­rect­ing some silk screen errors.
Other changes that did not affect the board lay­out were chang­ing the 5 volt switch­ing reg­u­la­tor to a 7805 lin­ear reg­u­la­tor main­ly for cost sav­ings, and replac­ing the volt­age input pin head­er with indi­vid­ual longer gold (Au) pins. The indi­vid­ual pins allowed me to have a thick­er gold plat­ing and a longer pin for about the same price of the orig­i­nal 6 pin head­er. I will install these pins from the back of the cir­cuit board next time as I did not need quite that much length.
Mounting of the mul­ti­me­ter board secure­ly to the dis­play board was not as much of an issue as I had orig­i­nal­ly thought. I end­ed up using a nylon 4–40 machine screw with three nuts to clamp the edge of the dis­play board in place using the mount­ing hole on the mul­ti­me­ter board.
Calibration of the volt­age went well, but I decid­ed that the trim-pot did not need as much pre­ci­sion as what I had orig­i­nal­ly designed. So I changed the val­ues of resis­tor R4 to 100 Ohms, and changed the val­ue of the trim-pot R2 to 1K Ohm which extend­ed the range of adjust­ment.
I also moved a few of the com­po­nents for addi­tion­al clear­ance of the pow­er sup­ply con­nec­tor along with increas­ing the trace width of the 4 dis­play cath­ode lines from the IC to the con­nec­tor to fur­ther reduce the volt­age drop. These changes are now includ­ed in revi­sion 1.21
These will most like­ly be my last changes to the board designs as I have run out of PD 6050C pow­er sup­plies to mod­i­fy.
Cost of parts for both mul­ti­me­ter and dis­play boards was $80 USD
Excel spread­sheet for BOM revi­sion 1.21
Eagle CAD 9.X board and schemat­ic files for revi­sion 1.21