Repair and cleanup of a vin­tage Keithley Instruments 600A Electrometer.
After search­ing online for a lit­tle over a year I came across this Keithley meter on an Ebay auc­tion. I had been hold­ing out for a repairable dig­i­tal dis­play Keithley mod­el, but with the start­ing bid and ship­ping on this vin­tage mod­el I thought it would be worth a try. Luckily I was the only bid­der on this unit and picked it up for under $40 USD.
Shipping took 10 days from the West coast, so I had some time to pre­pare for it's arrival.

One item that would need to be replaced from view­ing the auc­tion pho­tos was the dual D‑cell bat­tery hold­er. The pho­tos indi­cat­ed lots of cor­ro­sion and elec­trolyte leak­age in the past, so I ordered a Keystone Electronics 176 bat­tery hold­er which arrived before the meter. I also ordered a full set of bat­ter­ies for the unit.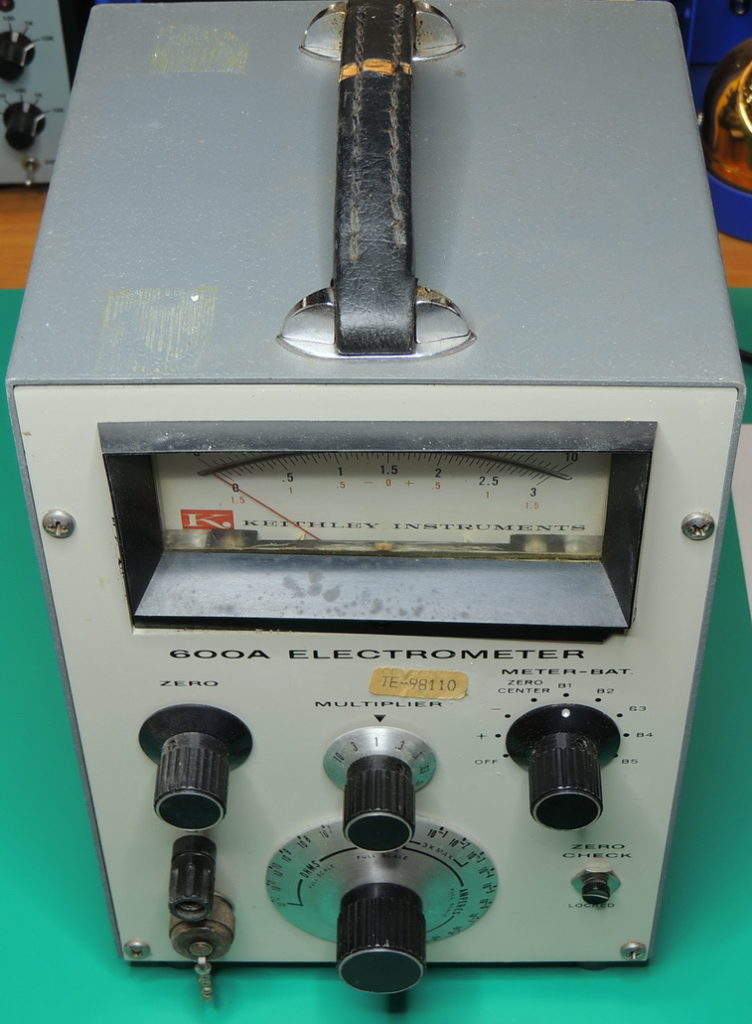 From the angle of the auc­tion pho­tos, I did not notice that the meter bezel was pushed in past the front pan­el. Other than that the meter arrived in good shape in the con­di­tion that I expect­ed.
Next order of busi­ness after it arrived was to open it up and check the con­di­tion of all the inter­nal com­po­nents, and for any obvi­ous prob­lems.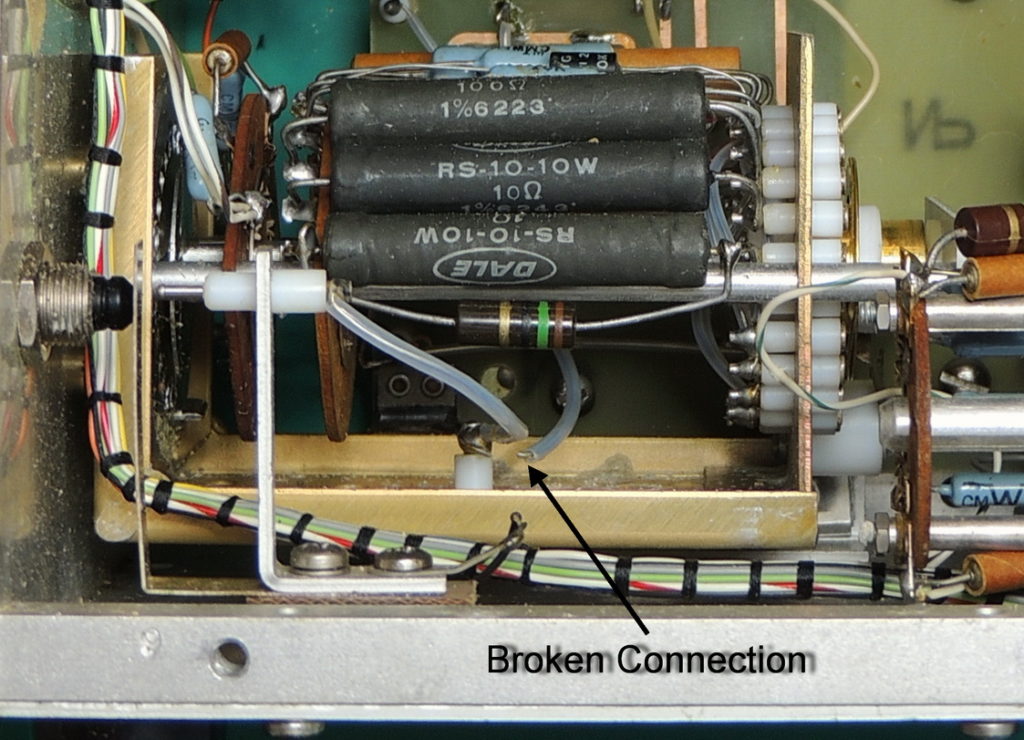 The first item I found was a bro­ken wire to the "Zero Check" mid sup­port ter­mi­nal. The next item was a ter­mi­nal block short­ed to the out­er case of the "Set Zero Center" poten­tiome­ter which is con­nect­ed to case ground.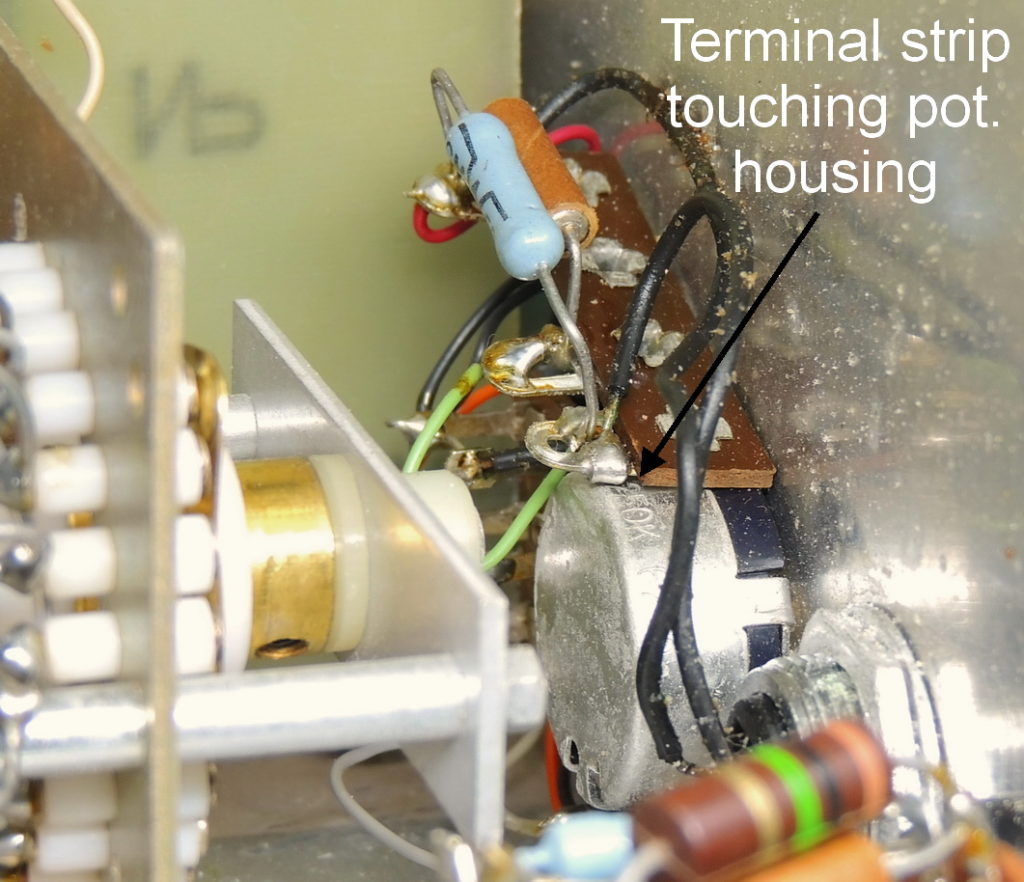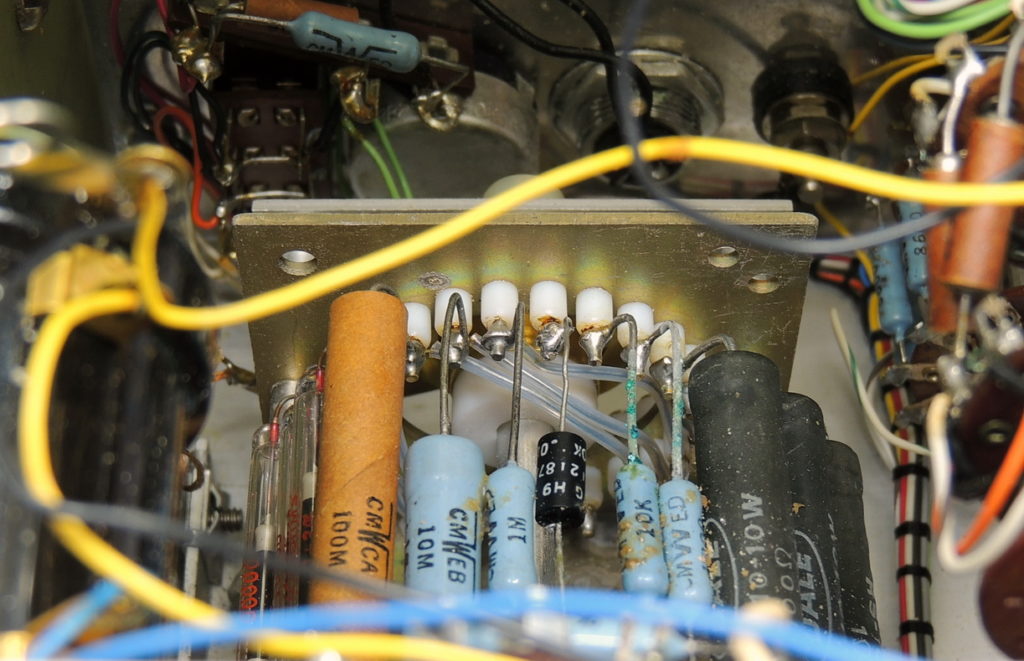 Overall the inside of the unit had a lot of resid­ual bat­tery elec­trolyte that had leaked and then flaked off onto the sides and com­po­nents. It took near­ly a day and a half of clean­ing and check­ing before I was sat­is­fied.
The prob­lem with clean­ing Electrometers is that many of the con­nec­tions between com­po­nents and their phys­i­cal mount­ing points need an extreme­ly high resis­tance either between com­po­nents or ground for accu­rate mea­sure­ments. The Keithley 600A Electrometer uses PTFE bush­ings and stand­offs which pro­vide a very high elec­tri­cal insu­la­tion of > 1018 ohms. To pre­serve this high resis­tance all sur­faces of the PTFE must be con­t­a­m­i­na­tion free.
Other areas that must be con­t­a­m­i­na­tion free are the input con­nec­tor and the glass enve­lope of the vac­u­um tubes where the leads enter the glass.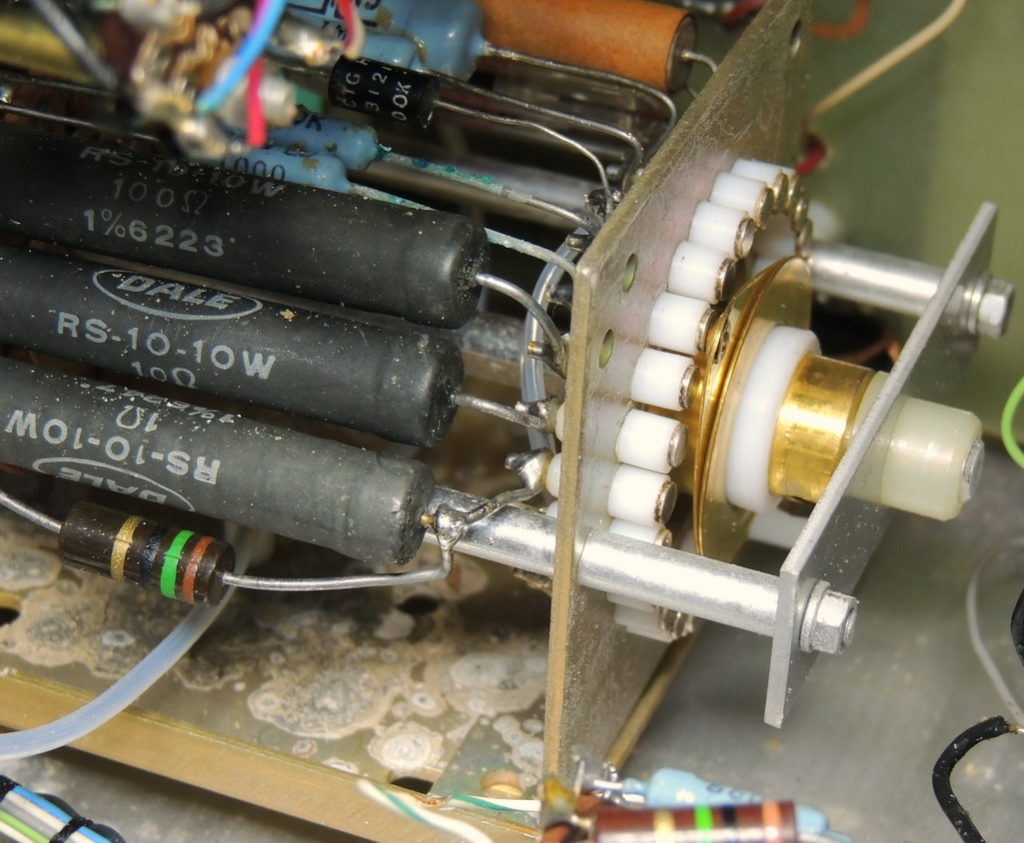 My weapons of choice for clean­ing PTFE and gold con­tacts are 99.9 % Isopropyl alco­hol, and then DeoxIT Gold on the con­tacts. I usu­al­ly start with a phys­i­cal clean­ing using the Isopropyl alco­hol and a soft bris­tle tooth­brush, and then mul­ti­ple rins­es with the alco­hol and dry­ing with com­pressed air between rins­es.
After per­form­ing oth­er var­i­ous repairs includ­ing the meter hous­ing, it was time to install the bat­ter­ies.
The oper­a­tions man­u­al called for 1.34 V mer­cury D‑cell bat­ter­ies and 8.4 V mer­cury bat­ter­ies which are non-exis­tent now days. I end­ed up using some Tenergy Centura low self-dis­charge Ni-MH D‑cell and 9 volt bat­ter­ies. Both had sim­i­lar volt­age spec­i­fi­ca­tions to the mer­cury bat­ter­ies and are recharge­able. I went with the low self-dis­charge type to reduce the need to open up the case every few months.
The oth­er hard to find bat­tery is the No. 413 type 30 volt units. The 600A requires two of these (B4-B5) which are expen­sive, but avail­able online.
I did end up using some DeoxIT D5 on the front and back switch con­tacts, and fol­lowed up with sev­er­al more rins­es with Isopropyl alco­hol on the PTFE mounts.
The main board is vibra­tion iso­lat­ed at four points to reduce micro­phon­ics in the vac­u­um tubes mount­ed on the board. The cop­per wires from the input con­nec­tor and range selec­tor are made from fine braid­ed wires and are looped to also reduce vibra­tion con­duct­ed into the main board.
For ship­ping there is a met­al angle brack­et that sup­ports the main board and is removed for oper­a­tion. The brack­et is attached thru the hole in the back pan­el above the "Normal-Fast" selec­tor switch.
After warm­ing up for 30 min­utes I per­formed a cal­i­bra­tion on the Volts set­ting, then sev­er­al cur­rent and resis­tance checks on the meter. I cur­rent­ly do not have any equip­ment or stan­dards to check the upper ranges of this meter, but all mid-range checks were accu­rate.
I did get a read­ing of over 100 Teraohms ( 1014 ohms ) with no leads attached.
Not bad for a meter over 55 years old made in the ear­ly 1960's.

The oper­a­tions man­u­al is avail­able from the Keithley web­site.