Bringing a Power Designs Inc. 6050D Universal DC Source back to life.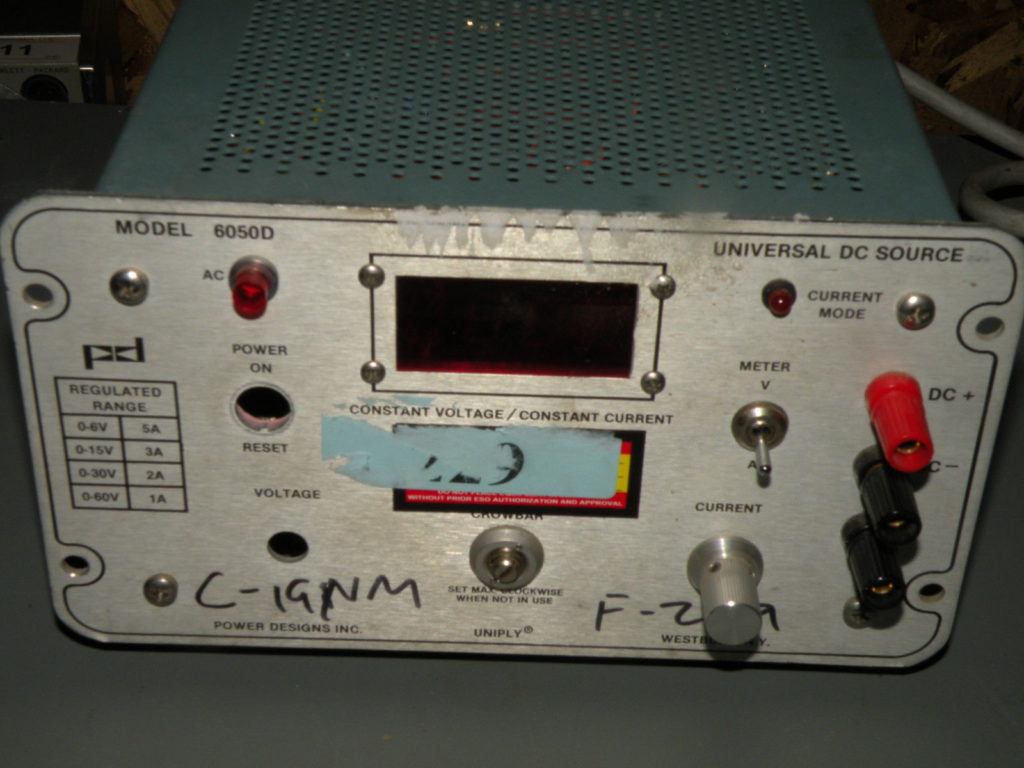 The Power Designs Inc. 6050D is the D vari­ant and 5th in the series of 6050 pow­er sup­plies. It is a lin­ear pow­er sup­ply designed to out­put 0 to 60 volts DC in 4 decreas­ing amper­age ranges from 5 to 1 amps as the volt­age is increased. It uses the Power Designs UNIPLY® design (Patent #3,699,352) to accom­plish this.
Here is the infor­ma­tion from the 1997 web­site.
What is it?
Uniply offers a wide range of volt­age and cur­rent in a sin­gle out­put bench pow­er sup­ply. It pro­vides fea­tures not avail­able with com­mon dis­s­ap­a­tive cir­cuits. Because of its unique design, it's like hav­ing a fam­i­ly of pow­er sup­plies at your fin­ger­tips. Uniply is offered in both con­stant volt­age and con­stant voltage/constant cur­rent mod­els. Simply stat­ed, it's a wide range con­stant pow­er source.
What does it do?
By pro­vid­ing high­er cur­rent at low volt­ages and high­er volt­age at low­er cur­rents, Uniply allows max­i­mum flex­i­bil­i­ty in a sin­gle pow­er sup­ply. No longer is it nec­es­sary to have a vari­ety of pow­er sup­plies avail­able for dif­fer­ent pur­pos­es. A sin­gle unit replaces a mul­ti­tude of pow­er supplies.
How does it work?
To make life eas­i­er, the pow­er sup­ply is divid­ed into sev­er­al dis­tinct ranges. Each range has its own DC pow­er source which is auto­mat­i­cal­ly select­ed accord­ing to the out­put volt­age and cur­rent require­ments. When the cur­rent attempts to exceed the max­i­mum lev­el for a giv­en range, an LED lights. When the out­put volt­age lev­el is reduced or increased, the appro­pri­ate cur­rent range will be auto­mat­i­cal­ly select­ed. There are no man­u­al switch­es used to change ranges.
The pow­er sup­ply was pur­chased on Ebay, in "for parts or not work­ing" con­di­tion. It looked pret­ty rough with a miss­ing volt­age con­trol, and pow­er switch loose inside the case.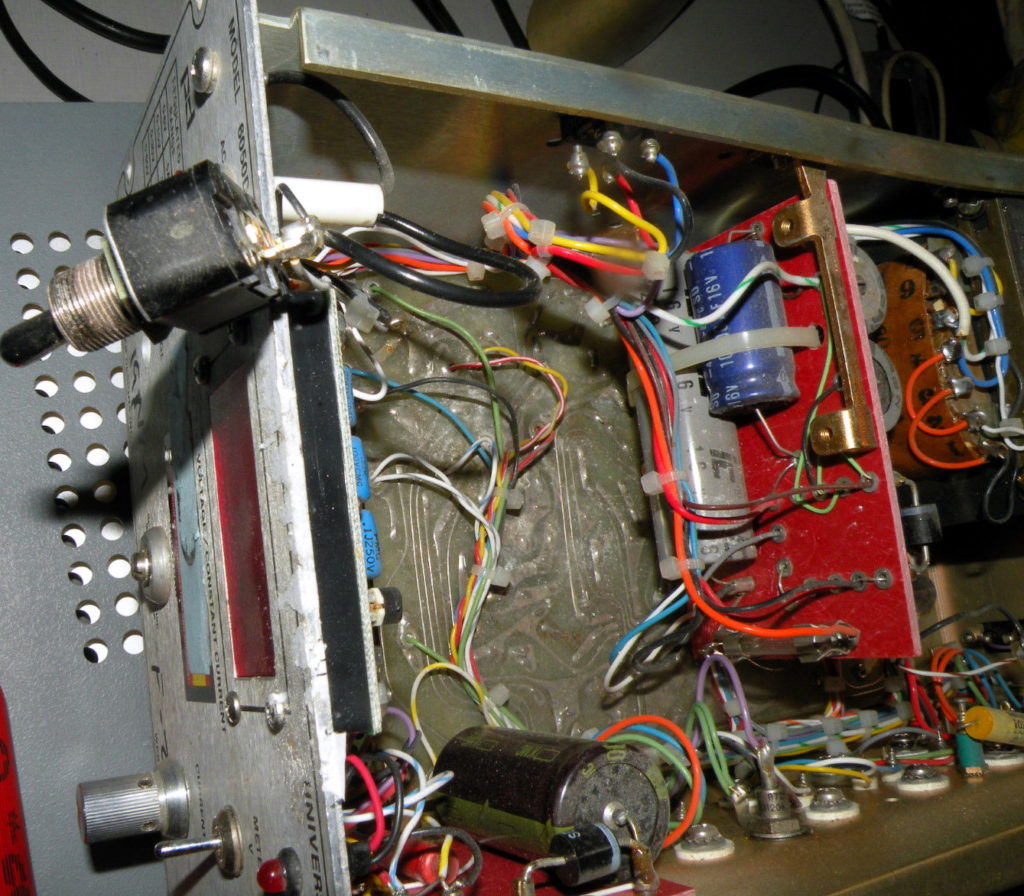 One of the first projects for this pow­er sup­ply was an exten­sive clean­ing and inspec­tion. After look­ing at the con­di­tion of the elec­trolyt­ic capac­i­tors, I decid­ed that a full re-cap would be a wise choice. All elec­trolyt­ic capac­i­tors were replaced with Nichicon capacitors.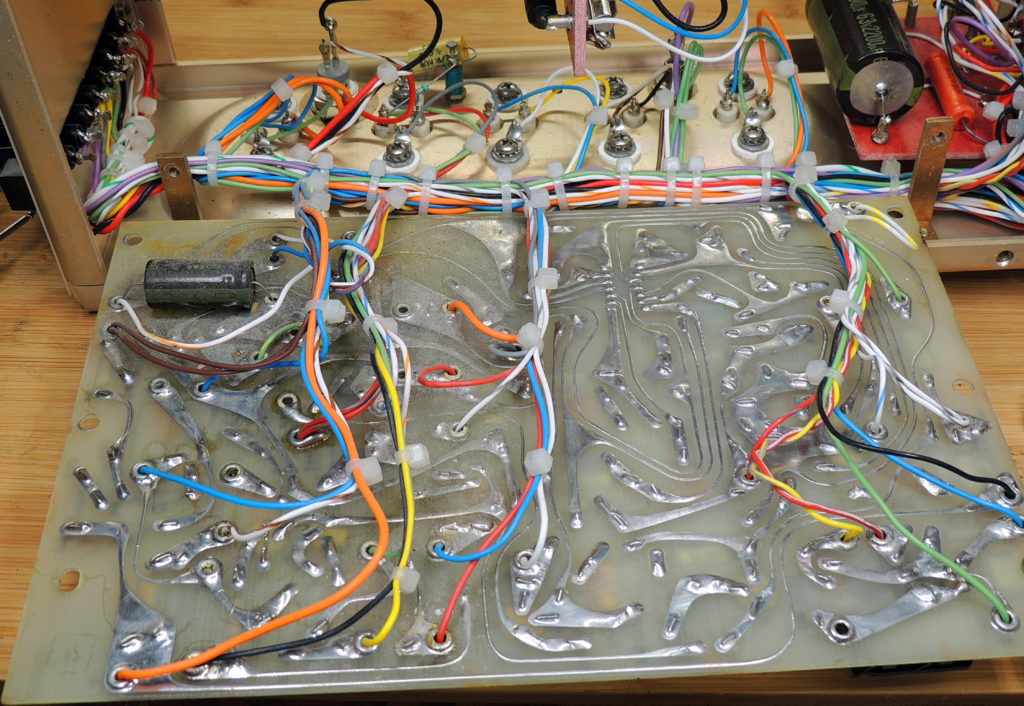 After replac­ing the miss­ing volt­age con­trol poten­tiome­ter with a VRN 84048 series 10-turn 10 K pot, remount­ing the pow­er switch, and sev­er­al quick checks for shorts, it was time to pow­er up the unit.
All inter­nal volt­ages checked out good, includ­ing the 4 addi­tive sup­plies for the UNIPLY® elec­tron­i­cal­ly con­trolled vari­able imped­ance sec­tion. I was able to set a volt­age that was rock steady under load, but could not adjust the cur­rent con­trol for set­ting the con­stant cur­rent mode lim­it. There was also a prob­lem with the front pan­el dis­play when switch­ing to the amps display.
The 2K ohm cur­rent con­trol poten­tiome­ter end­ed up hav­ing an open resis­tance cir­cuit, and the replace­ment is a Vishay Spectrol 534 series 10-turn 2 watt unit. The dis­play switch was a sealed unit with inter­mit­tent con­tacts, and was replaced with a C&K 7000 series DPDT On-On unit. The dis­play now workes prop­er­ly, but still no cur­rent control.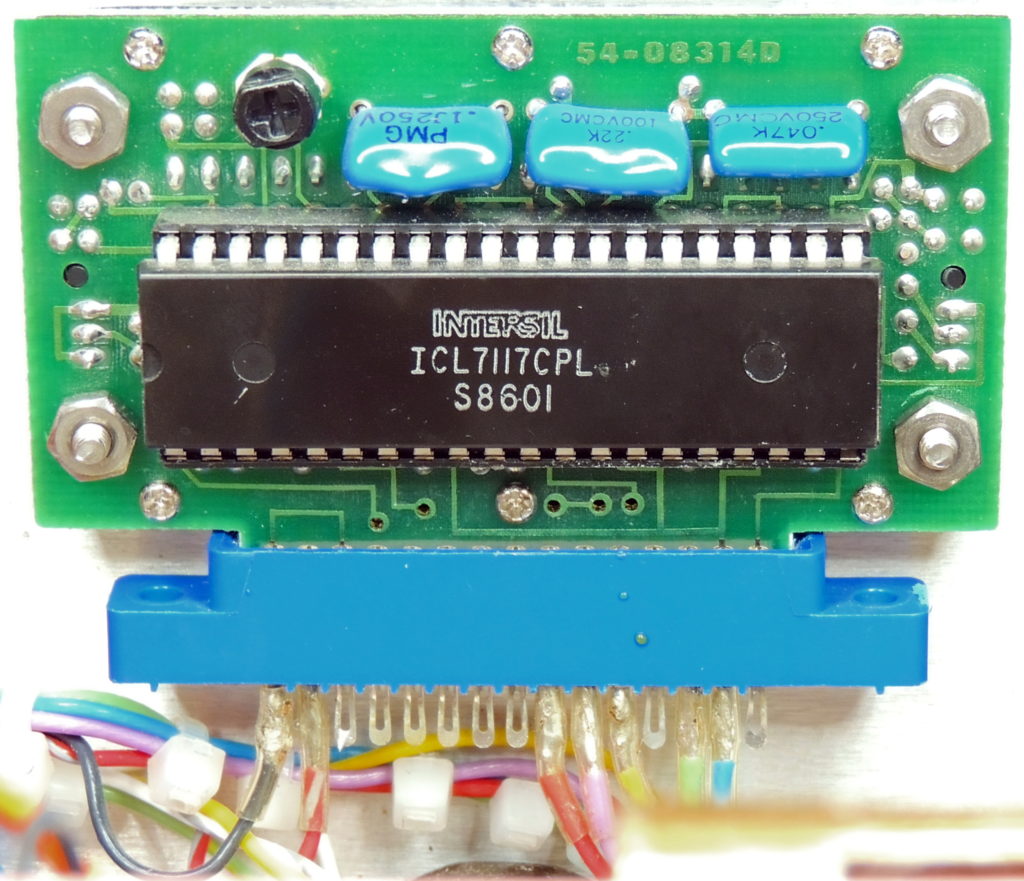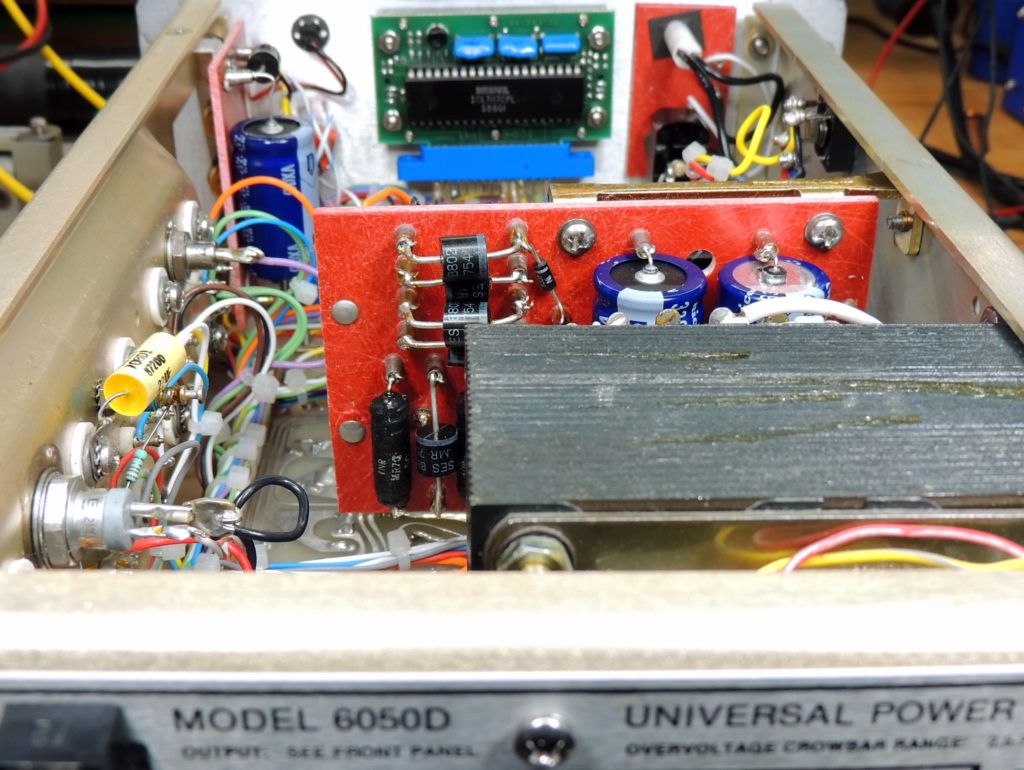 After many hours of trou­bleshoot­ing, the prob­lem with the cur­rent con­trol end­ed up being a faulty tran­sis­tor Q11, a NPN 2N2205A in a TO-18 Case. I did end up adding some slip-on heatsinks for some of the warmer transistors.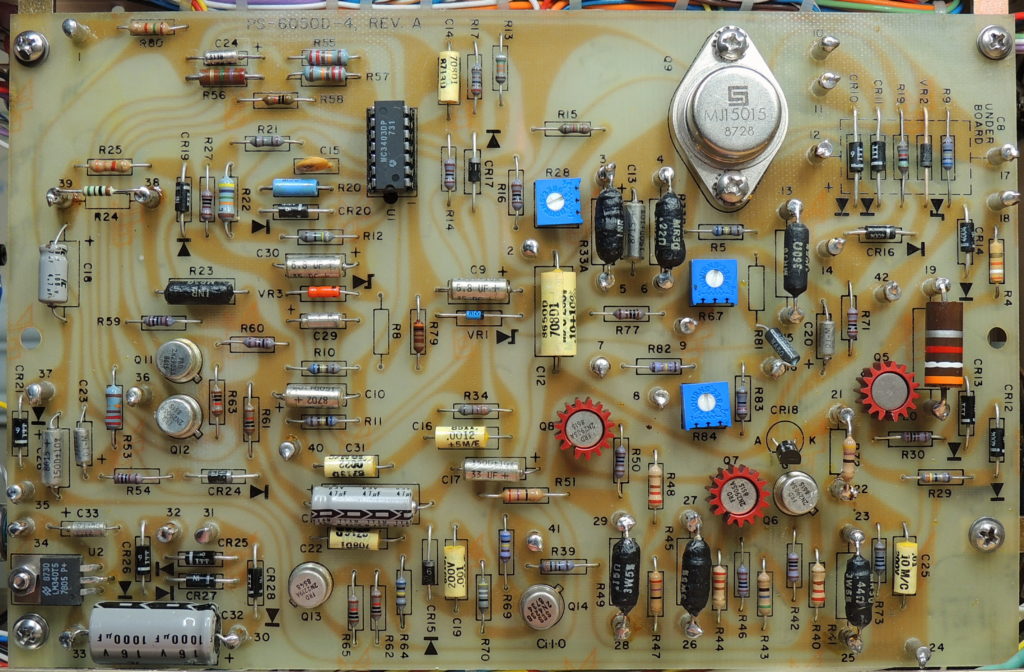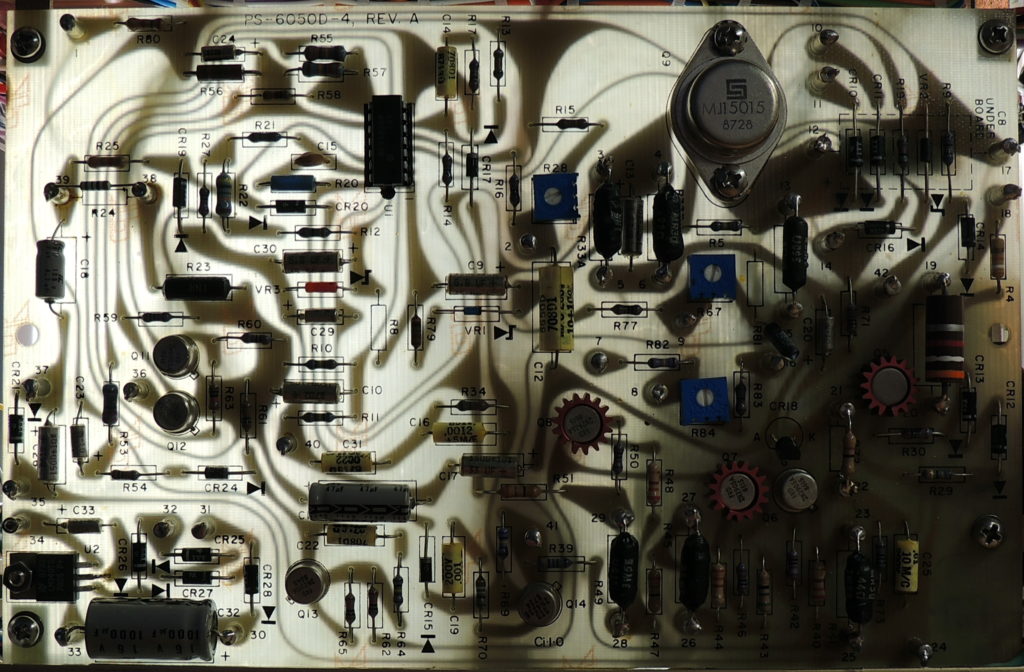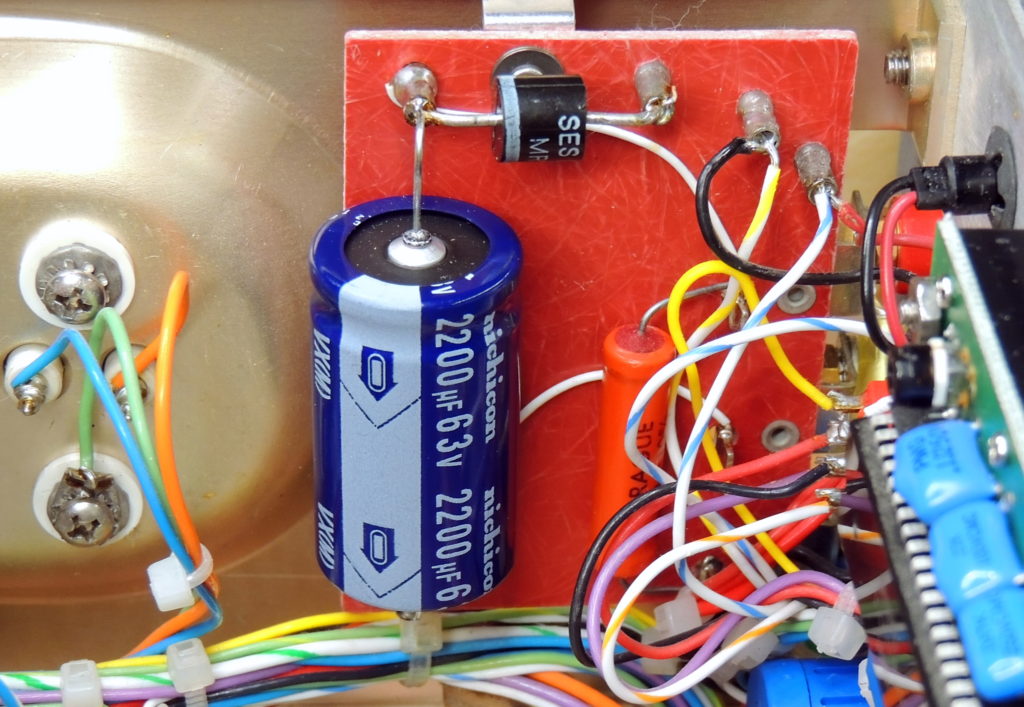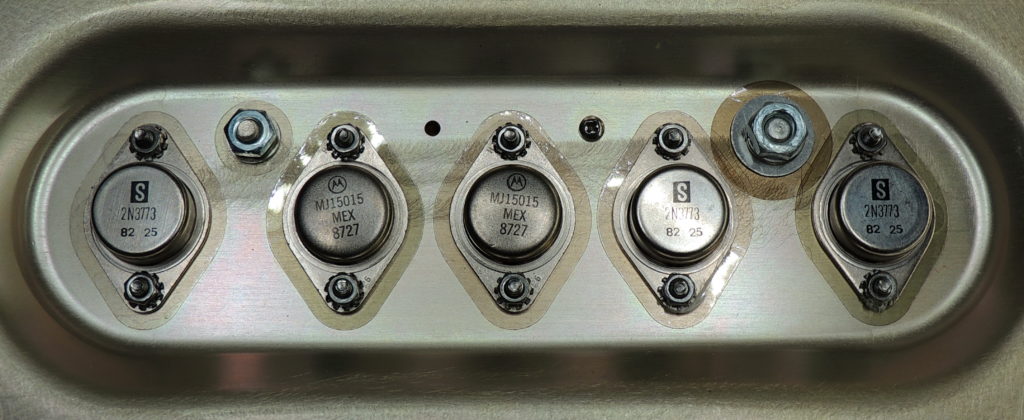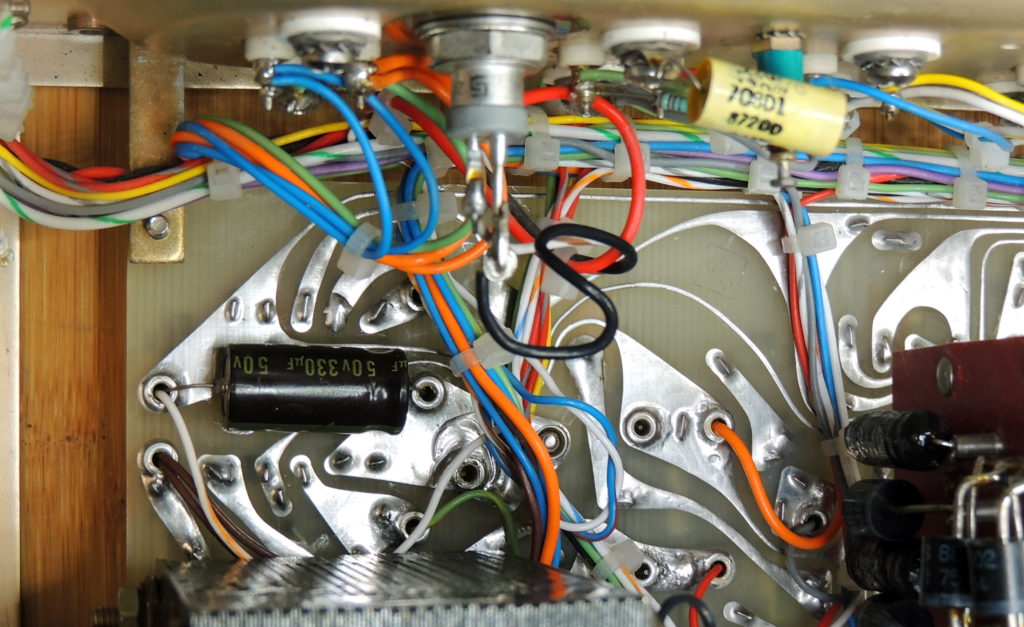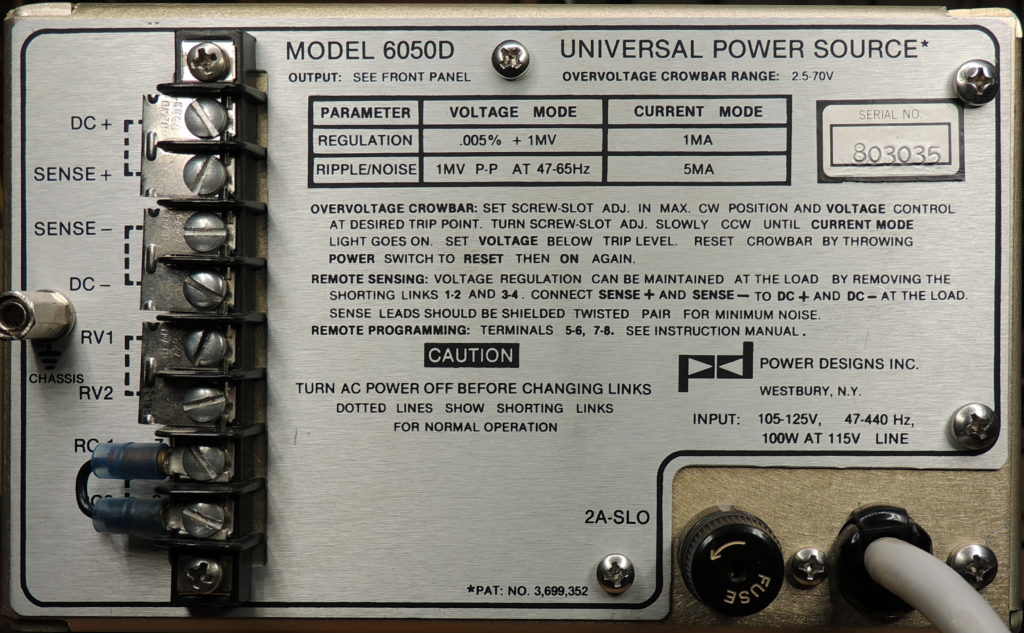 The front pan­el and out­er case cleaned up sur­pris­ing­ly well using sev­er­al dif­fer­ent clean­ers. I used N‑Heptane for remov­ing stick­er residue from the anodized alu­minum pan­el and acrylic dis­play, and Novus 3, 2, and 1 for remov­ing the scratch­es and haze from the dis­play, LED, and AC indicator.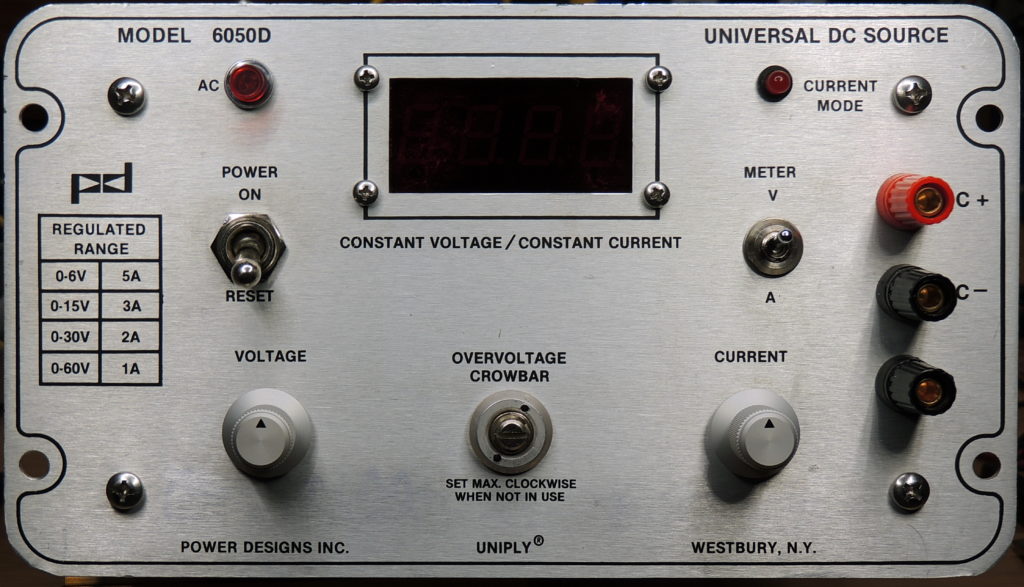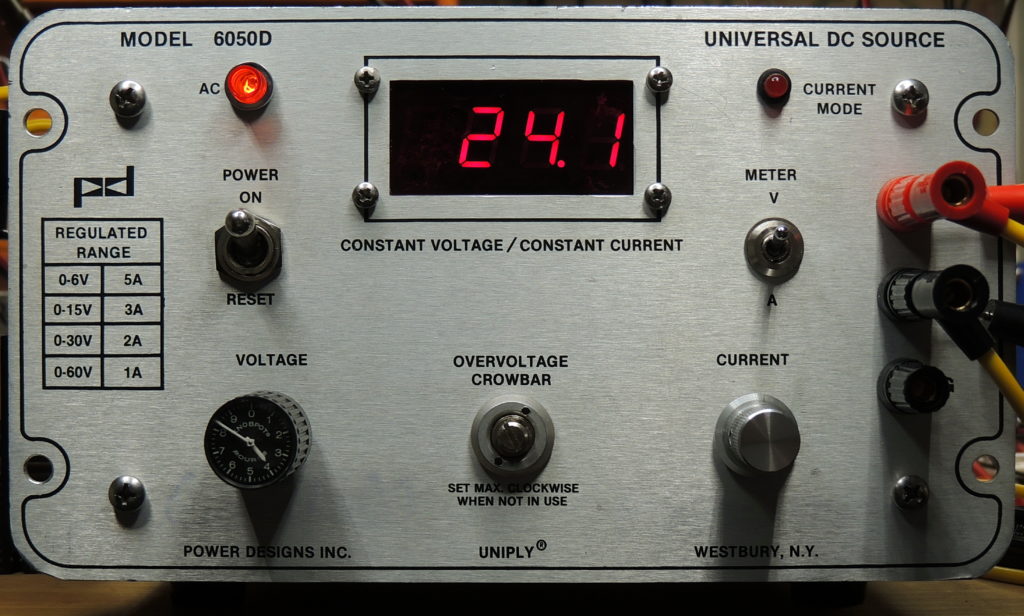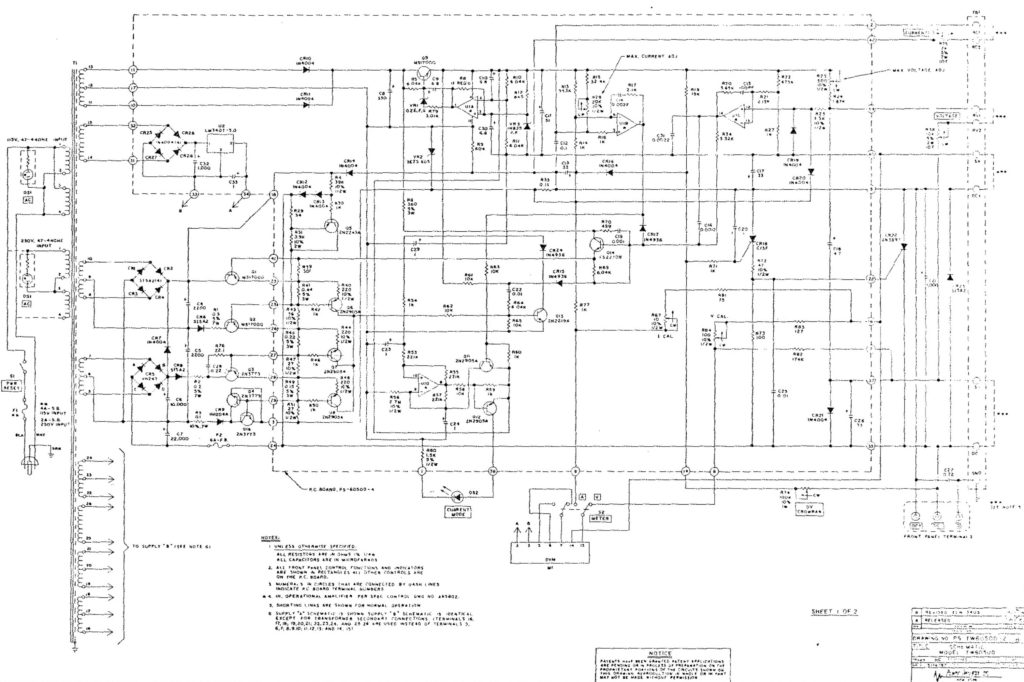 Original spec­i­fi­ca­tions for this pow­er sup­ply were:
0.005% volt­age regulation
0.02% cur­rent regulation
1 mv P‑P volt­age ripple-noise
5 ma P‑P cur­rent ripple-noise
Under full load at the upper volt­age in each of the 4 ranges, volt­age reg­u­la­tion was bet­ter than 0.002% and volt­age rip­ple-noise was less than 0.25 mv P‑P.
The PD6050D is cur­rent­ly my favorite lin­ear that I own, but I am cur­rent­ly work­ing on restor­ing it's big­ger broth­er, the Power Designs 6150. It is a mas­sive unit capa­ble of 15 amps out­put on it's low­er range. I am search­ing for a PD6150 schemat­ic if any­one has one available.
FOUND — See the PD6150 project post