Cleanup and check of a Mettler Instruments K4T sin­gle pan top load­ing balance.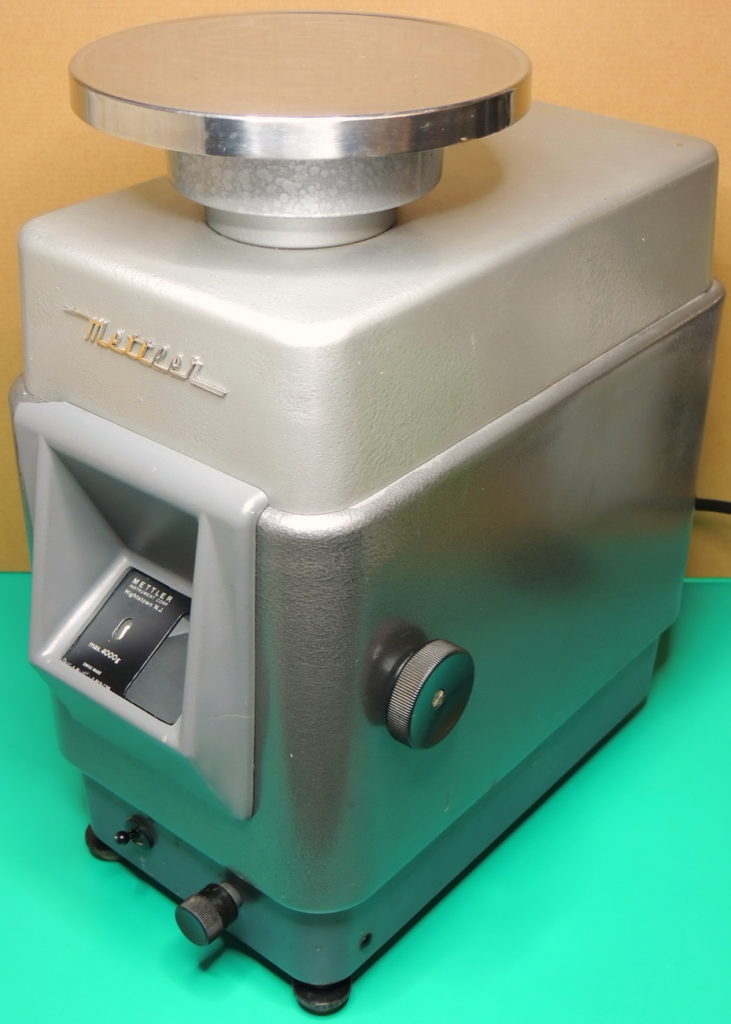 After own­ing and using this K4T bal­ance for over twelve years, I thought it was time for a full cleanup and accu­ra­cy check. When first pur­chased from Ebay it received a quick cleanup, func­tion, and accu­ra­cy check, before I quick­ly put it to use.
I already owned sev­er­al oth­er Mettler K5 and K7 bal­ances, and the K4T is basi­cal­ly an updat­ed ver­sion of the K5T. According to Mettler's web­site the K4 has been dis­con­tin­ued since: Jan, 1965.
Now that I am retired I thought the old K4T deserved some atten­tion. I did a fair­ly exten­sive search of the inter­net, but did not find much infor­ma­tion or pho­tos of Mettler's K4 bal­ance, which replaced the Gram-atic 4000 series of bal­ances.
So while clean­ing I took the time to pho­to­graph the inter­nals of the K4T.


The Mettler K4T bal­ance is a sin­gle-pan bal­ance, for rough weigh­ing.
The weight read­out is by gratic­ule pro­ject­ed on to a ground-glass screen. It has a capac­i­ty of 4,000 grams with a pre­ci­sion of +/- 0.2 grams. The beam uses mag­net­ic damp­en­ing with a sta­ble read­out in 2 to 5 sec­onds. The dis­play has an opti­cal range of 1,000 grams with 1 gram divi­sions. It has built-in sub­sti­tu­tion weights of 1 and 2 Kg, along with an adjustable spring type tare func­tion of 500 grams. This unit was built in the late 1950"s.

Click on gallery images for larg­er view.
Some help­ful notes for ship­ping Mettler K Series balances:

First unplug the bal­ance from pow­er source.
Remove the pan and pan base from the top of balance.
Carefully remove the met­al top cov­er sec­tion straight up, mak­ing sure not to put pres­sure on the front dis­play bezel.
Carefully remove the sub­sti­tu­tion weights from their hold­ers and place on a clean soft sur­face such as a towel.
Turn the "

ARR

." knob on the low­er back of the bal­ance in the direc­tion of the arrow to arrest the beam.
Check that the knife edge piv­ots raise up, and the bal­ance beam is secured and not loose.
Using a flat blade screw­driv­er loosen the screw in the cen­ter of the weight range selec­tion knob two turns. Gently pull straight out clear­ing the side pin from the case.
Replace the met­al top cov­er on the balance.
If the bal­ance has a tare knob on the left side, it is not remov­able and extra pre­cau­tions will need to be tak­en in pro­tect­ing it such as added padding on the left side around the knob. The knob will not sur­vive a direct impact dur­ing shipping!
The pan, pan base, sub­sti­tu­tion weights, and range selec­tion knob should all be wrapped and packed sep­a­rate­ly from the bal­ance. No loose items should be inside the bal­ance case.
Mettler K Series PDF man­u­al in English, French, and German, thanks to gmvv.org !