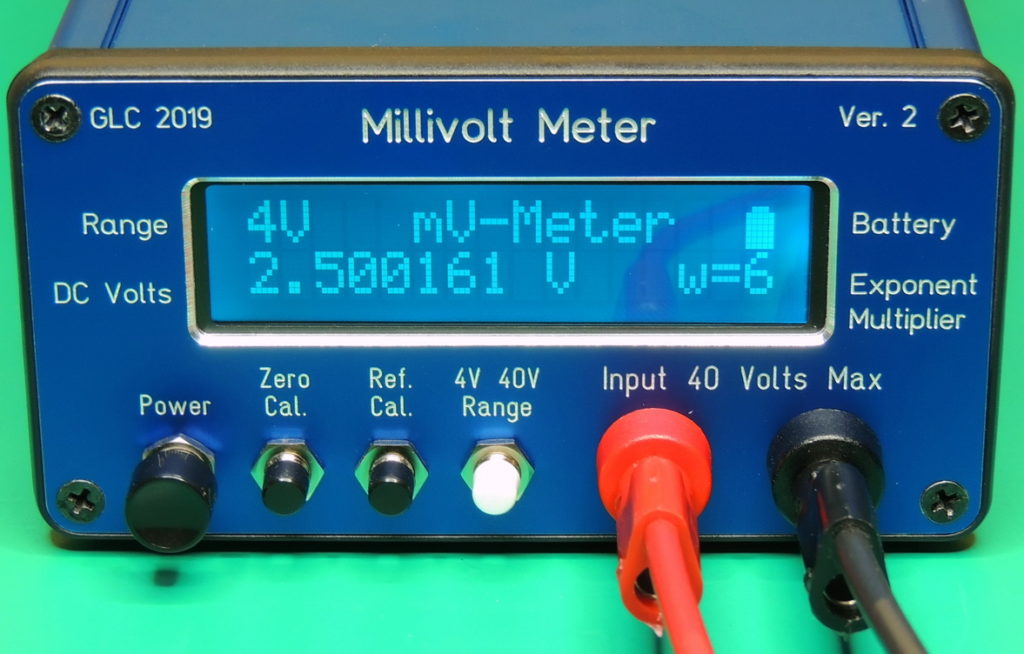 An updat­ed ver­sion of the Millivolt Meter project from May 2016, with dual range selec­tion, cal­i­bra­tion selec­tion, improved soft­ware, and updat­ed board layout.
After three years, I decid­ed it was time for a refresh of my orig­i­nal Millivolt Meter ver­sion 1.51, based on the Scullcom Hobby Electronics Millivolt Meter on Youtube.
The orig­i­nal board was designed to loose­ly match the orig­i­nal Scullcom Hobby Electronics thru-hole board using a mix of sur­face mount and thru-hole devices instead. The major changes in ver­sion 1.5 were the addi­tion of the Caddock volt­age divider in place of the dis­crete resis­tors, the Arduino Pro Mini instead of the Nano, and using an I2C con­nect­ed dis­play instead of the direct­ly con­nect­ed par­al­lel display.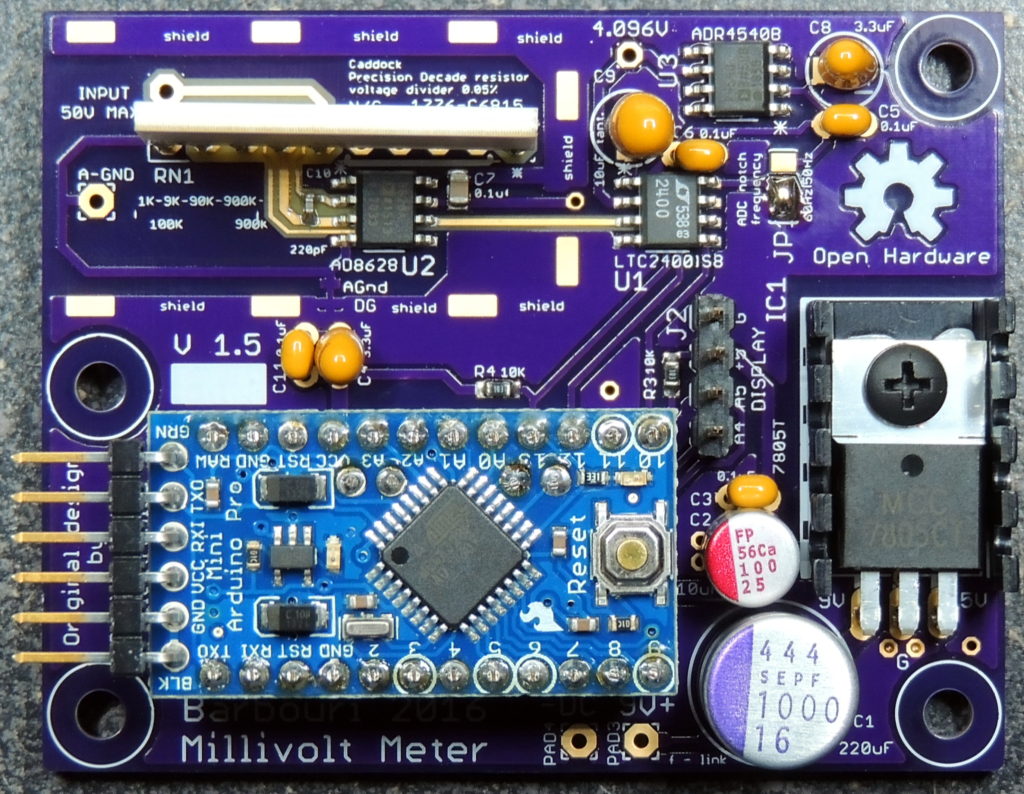 The Version 1.51 board was fea­tured in a lat­er video by Scullcom Hobby Electronics as the Millivolt Meter MK2, with sev­er­al oth­er updates.
Paul Versteeg made sev­er­al mod­i­fi­ca­tions to the board such as bat­tery volt­age mon­i­tor­ing and refined the soft­ware to include fil­ter­ing, and improved cal­i­bra­tion. Paul's Blog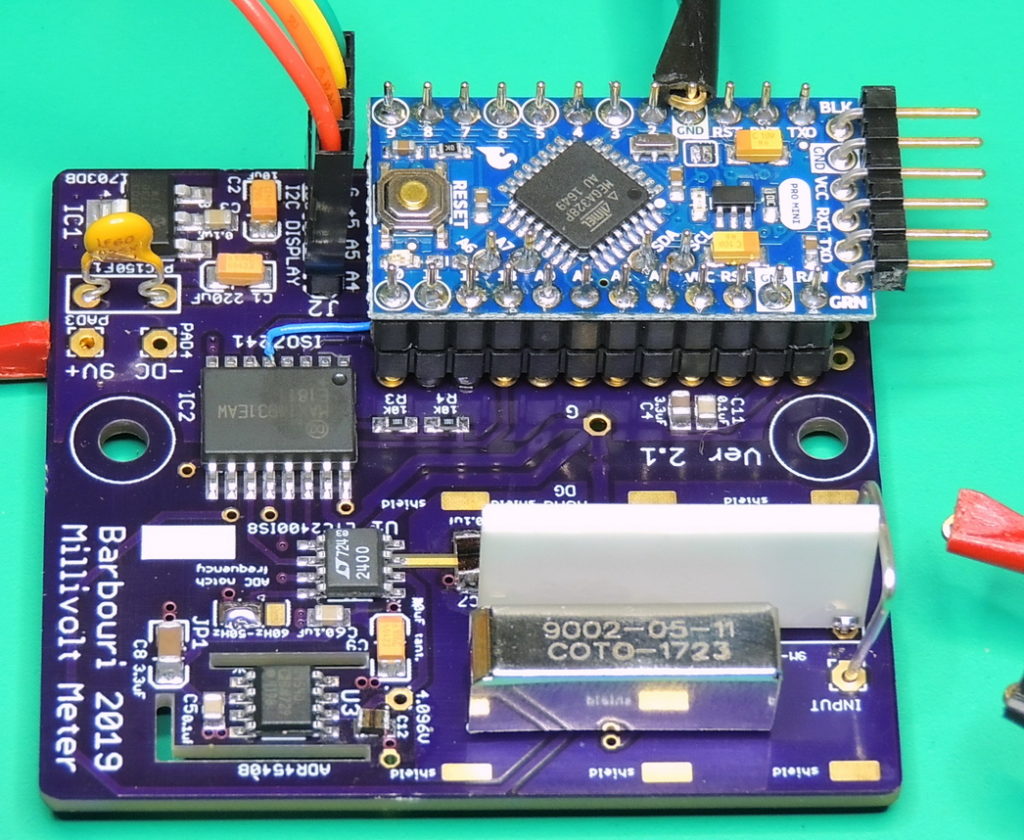 The new ver­sion 2 board is now larg­er to sup­port the addi­tion­al com­po­nents.
One of the first changes was to replace the TO220 volt­age reg­u­la­tor with a sur­face mount low qui­es­cent cur­rent / low dropout ver­sion. Also added was a PTC fuse on the 9 volt input. The board will now work with a sup­ply down to 5.4 volts which allows the 1.5 volt bat­ter­ies to be drained all the way to 0.9 volts each.
A MAX14931 dig­i­tal iso­la­tor was added between the dig­i­tal and ana­log sec­tions of the board for com­mu­ni­ca­tions with the LTC2400 ADC, and iso­lates the SPI bus and relay con­trol.
The ADR4540 volt­age ref­er­ence remains the same, but now has mechan­i­cal and ther­mal iso­la­tion slots around it along with addi­tion­al fil­ter­ing on the vref out using film capac­i­tors.
The input volt­age divider still uses the Caddock pre­ci­sion decade resis­tor divider, but it is now con­fig­ured as a 10 meg Ohm 10:1 divider on the 40 volt range. A shield­ed COTO relay with a 5 volt coil is now includ­ed to switch to a 4 volt range, which bypass­es the divider still keep­ing a 9 meg Ohm input resis­tance.
I added an over-range check in soft­ware to auto­mat­i­cal­ly switch to the 40 volt range from the 4 volt range if the volt­age is greater than 4.01 volts or the ADC sets the over-range bit, along with set­ting the back­light to vio­let to warn of the range change.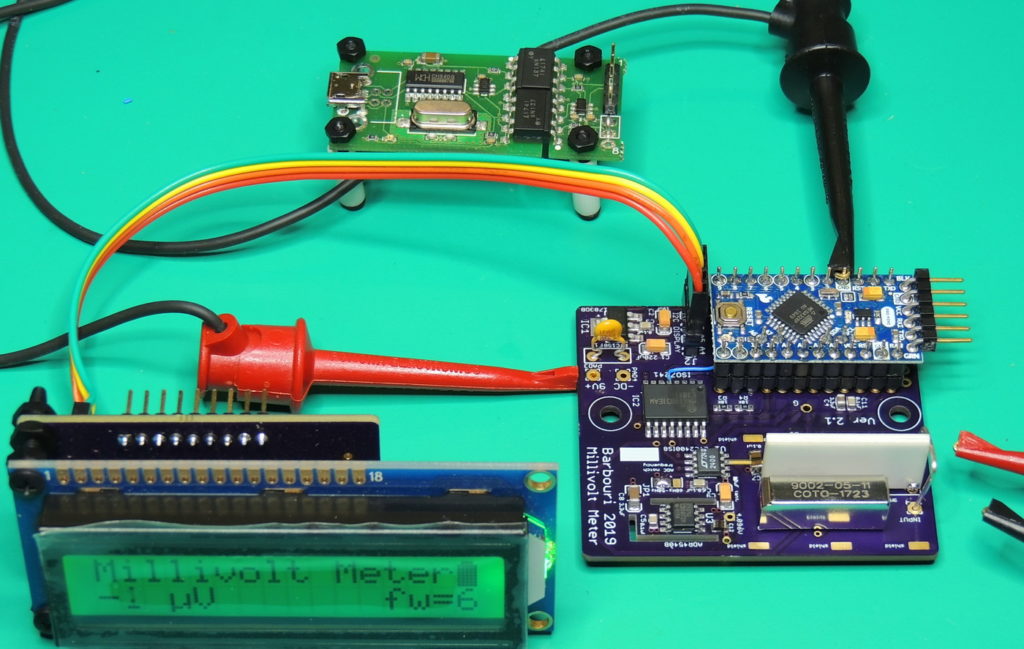 Some oth­er new items are an input pro­tec­tion board, a ZeptoBit iso­lat­ed USB-UART adapter, Multi-input I2C LCD dis­play adapter with EEPROM, bat­tery volt­age mon­i­tor, and back pan­el cal­i­bra­tion selec­tion switch.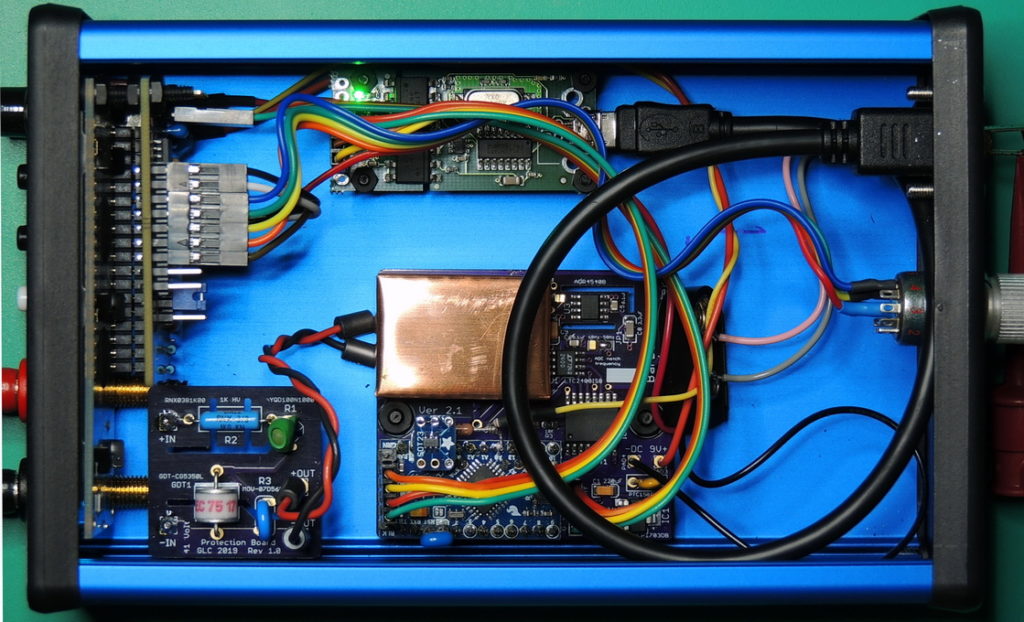 To con­nect the USB iso­la­tor to the back pan­el I used an Adafruit pan­el mount exten­sion USB Cable — Micro B Male to Micro B Female #3258.
For the cal­i­bra­tion switch, I used a C&K MA00L1NZQD rotary switch and pinned it for 5 posi­tions with the fifth posi­tion being OFF to pre­vent acci­den­tal cal­i­bra­tion from the front pan­el.
I was orig­i­nal­ly going to use 4 sin­gle cal­i­bra­tion points, but end­ed up using a 2‑point cal for each range at 10% and 90%.
Cal‑A and B are used for the low (0.4096) and high (3.6864) cal for the 4 volt range, with Cal‑C and D used for the low (4.096) and high (36.864) cal on the 40 volt range.
The cal­i­bra­tions for each range must be done with A before B, and C before D, as the high cal for each range uses data from the low cal for it's cal­cu­la­tions.
The 2‑point cal does­n't use a zero cal, so that front pan­el switch is cur­rent­ly unused.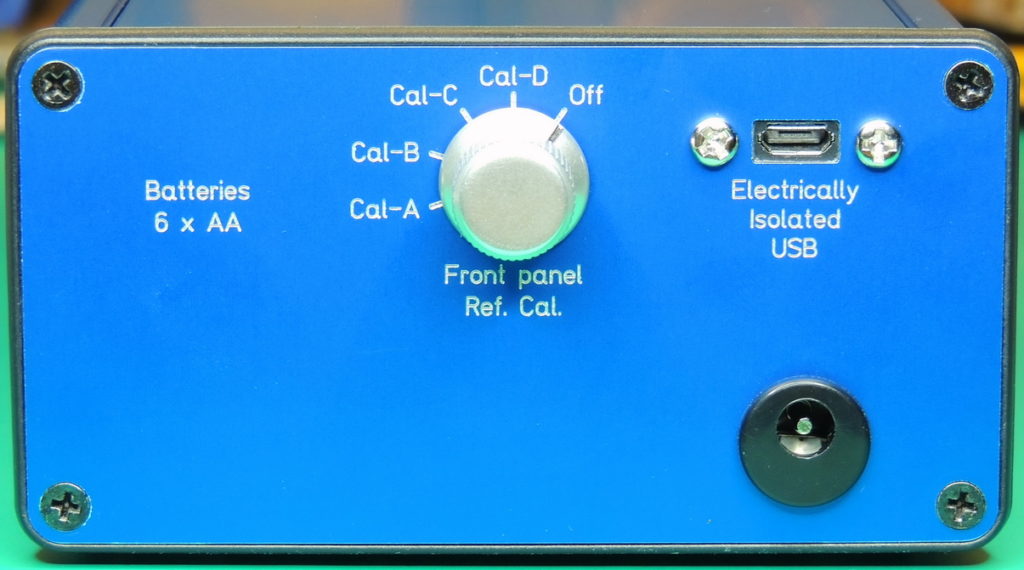 I used a 6‑cell AA bat­tery pack for nor­mal oper­a­tion of the meter, but added an exter­nal pow­er jack for test­ing and burn-in pur­pos­es. I kept the unit pow­ered con­tin­u­ous­ly for over 1,000 hours / 45 days to allow the volt­age ref­er­ence drift to set­tle, before my final cal­i­bra­tion.
Overall I am pleased with the updates, but feel that there is still room for improve­ment espe­cial­ly with the soft­ware to reduce some non-lin­ear errors with the ADC.
I would like to uti­lize the EEPROM on the I2C dis­play board to map out the non-lin­ear errors in the ADC cir­cuit, but that will be a future project.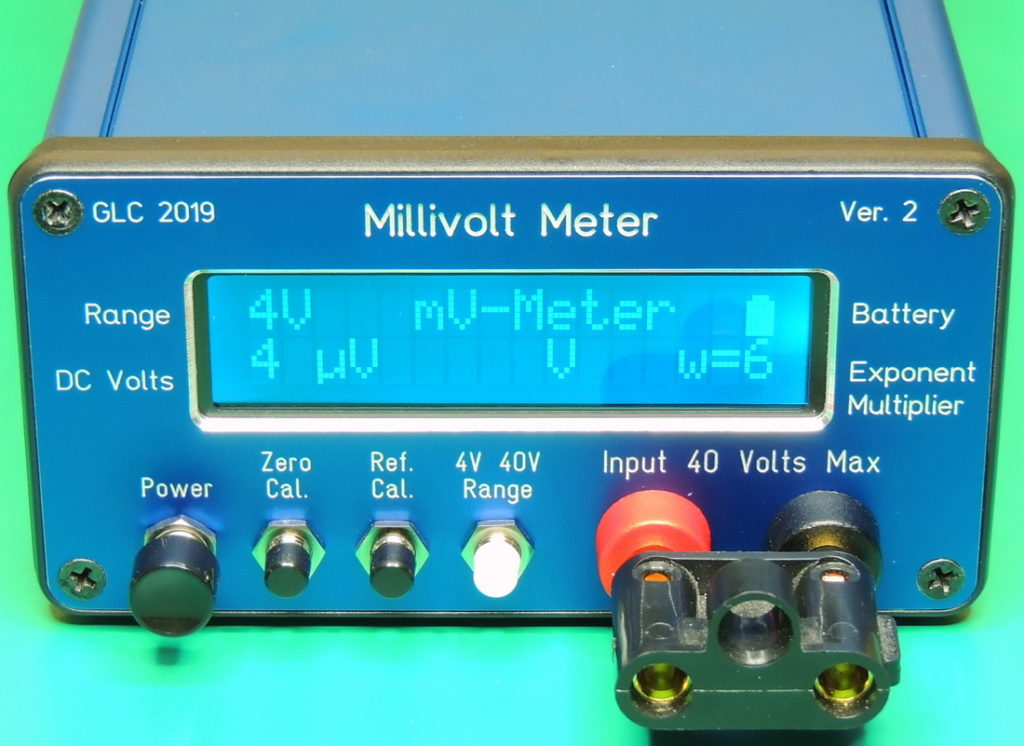 Eagle CAD board and schemat­ic files Millivolt Meter Version 2.11
OSH Park Millivolt Meter V2.11 project page
Millivolt Meter Ver. 2.11 BOM
Eagle CAD board and schemat­ic files RGB I2C Display with EEPROM
Eagle CAD board and schemat­ic files Input Protection board
Front Panel Designer front and back pan­el files for Hammond 1455N1601BU box
Arduino sketch files for soft­ware ver­sion 3.34
Modified Adafruit_RGBLCDShield library for addi­tion­al input I/O